Small automatic pouch packing machine
◆ Pouch packing machine description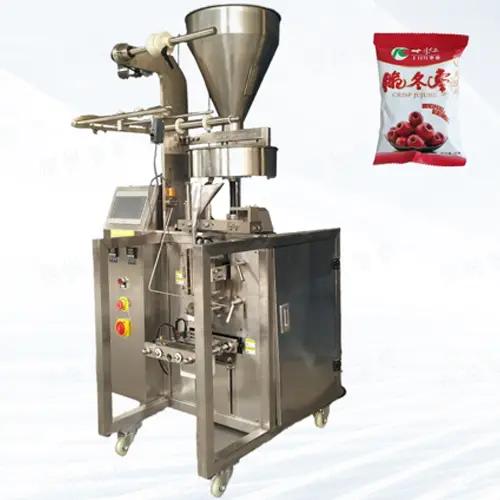 The small automatic pouch packing machine adopts PLC control,7-inch color touch screen operation,volumetric measuring cup measurement and weighing,

This pouch packing machine small can be used for automatic weighing and quantitative packaging of granules (such as raisins,crispy dates,green beans,melon seeds,peanuts,crackers,millet grains,brown sugar,oatmeal,etc.),coarse powder,and pharmaceutical granules. The packaging speed is fast,the weight error is small,and the bag making,measuring,filling,sealing,code scanning,and bag cutting are completed in one go,which greatly improves the packaging efficiency and is deeply loved by users.
◆Product parameters
| Product | Small automatic pouch packing machine |
| --- | --- |
| Model No. | YS/320K |
| Packaging Materials | Plastic film,aluminum film,aluminized film,non-woven fabric and other heat-sealable composite films |
| Measuring range | 10-200ml |
| Finished bag shape | Design styles such as back seal,three-side seal,punching with bag,inflation and exhaust |
| Packing speed | 30-60Bags/min |
| Film width | Max.320mm |
| Bag width | 40~140mm |
| Bag length | 30~175mm |
| Material thickness | 0.04-0.08mm |
| Weighing method  | volumetric measuring cup |
| Film pulling method | stepper motor |
| Power  | AC220V/50Hz/2KW |
| Dimensions | Length 1100mm×width 855mm×height 1900mm |
| Weight | about 300 kg |
| Indication | Due to product upgrading,parameters are subject to the actual product. |
◆ Packing application
Small automatic pouch packing machine is widely used:

•Puffed food and snack food (such as rice crackers,rice crackers,popcorn,small twists,candies,etc.);

•Granules,strips,blocks,spherical materials ( such as plastic granules,wolfberry,rock sugar,broad beans,melon seeds,peanuts,spiced beans,winter jujube crisps,green peas,yam slices,brown sugar oatmeal,small miscellaneous grains,sesame balls,etc.);

•Coarse powder with high specific gravity;

All the above materials and similar materials can use this pouch packing machine automatic.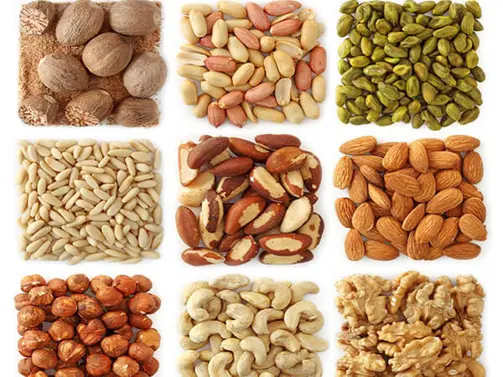 ◆ Pouch packing machine automatic features
①. The core control system adopts imported PLC,7-inch color touch screen operation control,frequency conversion speed regulation,easy to operate,and the function menu is concise and clear.

②,Fully automatic packaging can realize automatic feeding,weighing,coding,bag making,filling,sealing,output,counting and other packaging processes,and the packaging can be completed automatically without human intervention.

③ There are many types of packaging bags to choose from.

According to the packaging specifications and product characteristics,back-sealed long strip bags (for small particle materials),three-side-sealed or back-sealed bags (for heavy packaging),and nitrogen-filled fresh-keeping packaging,Exhaust packaging,punching packaging,continuous bag packaging,easy-to-tear packaging and other food packaging bags can be realized by the machine according to needs.

④. The pouch packing machine parts which contact with the material are made of food-grade 304 stainless steel. The core electrical components are of good quality,reliable,stable and durable.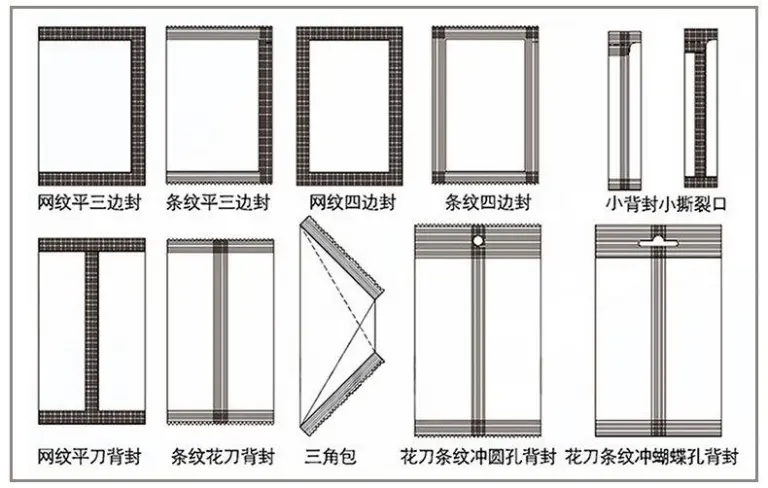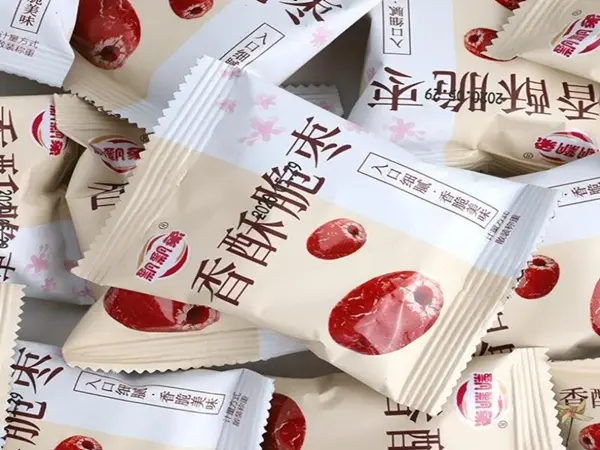 ◆ Advantages
①. Using measuring cup for measurement.

Accurate measurement,fast packaging and high efficiency.

②. The packaging range is generally 2-100 grams.

It is used to pack various solid granular materials with relatively uniform shapes. Various packaging bag types such as back seal and three-side seal can be selected.

③. Compact design and occupies a small space (about 1 square meter).

According to the packaging specifications and product characteristics,it can be loaded by automatic feeder (in the case of large packaging specifications) or manually (in the case of small packaging specifications).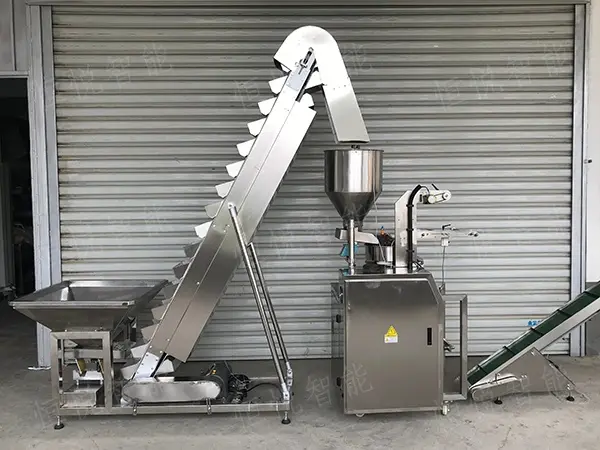 ④. Automatic operation mode,PLC program control.

Can realize all packaging processes (such as feeding,metering,bag making,filling,counting,and output) automatically.

⑤. Intelligent color mark positioning and tracking system,can automatically follow the mark to identify and determine the bag length.

The one without color mark can be set manually on the operation screen,which is simple and flexible to meet the packaging of multi-material and multi-specification products.

⑥. The independent temperature control device.

Can realize the independent control of the temperature of horizontal sealing and vertical sealing,and can be applied to heat-sealing materials such as single-layer or multi-layer composite films such as polyethylene and polypropylene,and aluminum-coated films.

⑦. The body material of the pouch packing machine is made of stainless steel,and high-quality core electrical components ensure the stable operation of the whole machine.

⑧. In order to meet the completeness of the labeling of small bag independent packaging products,small automatic pouch packing machine can be equipped with marking equipment such as inkjet printers and ribbon coding machines to print production dates etc.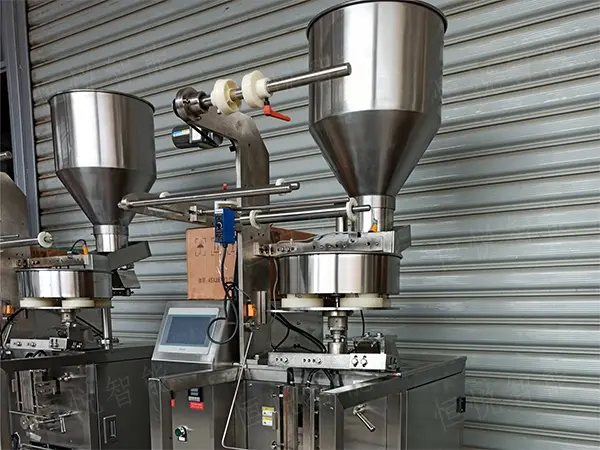 ◆ Small pouch packing machine manufacturer
We are good reputation pouch packing machine manufacturer. Our small automatic pouch packing machine is low in price,strong in versatility and high in cost performance,and can be widely used in multiple materials and multiple fields. We can make non-standardized vertical pouch packing machine automatic and horizontal pouch packing machine automatic according to the user's material characteristics,packaging specifications,bag design and other requirements.

In addition,we also produces fully automatic pouch packing machine for powder,liquid sauce pouch packing machine,combination scale granule pouch packing machine,combination scale automatic premade pouch packaging machine and other fully automatic and intelligent packing machinery. Welcome to click WHASTAPP to contact us for more types of pouch packing machine.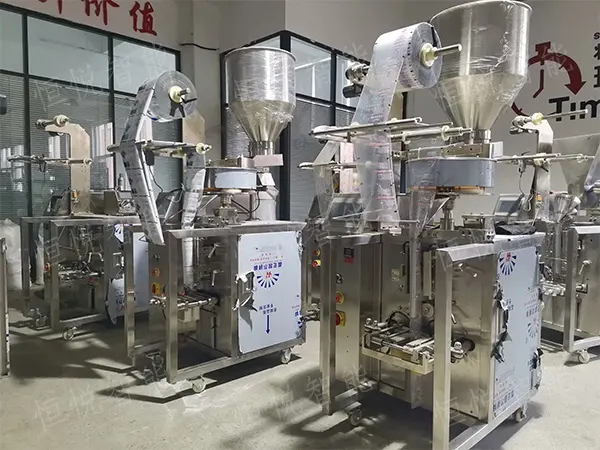 ◆ Best pouch packing machine in India
In recent years,India's manufacturing and retail industries have developed rapidly,attracting global attention. Correspondingly,the packaging industry that provides supporting services has also become a focus of attention. The demand for packaging products comes mainly from the food processing and pharmaceutical industries. Among them,food processing occupies the first place with a market share of 45%,followed by the pharmaceutical industry with 25%,and daily necessities,tea and coffee,and industrial product manufacturing with 10% each.

Due to the rapid growth of India's exports in recent years,in order to adapt to the international market,there are higher requirements for packaging standards,which has become another factor that promotes the growth of the packaging industry,especially packing machinery. Adoption of better packaging methods,materials and packing machine to ensure product quality has become critical for Indian businesses. At present,India's import of packing machine has exceeded 150 million US dollars. Plastic flexible packaging occupies the leading position in India's packaging industry.

India's demand for packing machine comes mainly from three sectors.

•Individual organization;

Due to the improvement of quality awareness of final consumers,the upgrading of packing machine is the key to success;

•Big enterprises,mainly multinational corporations;

Their demand for packaging machinery is mainly influenced by their parent company's global strategy and standards;

•Big food production and pharmaceutical companies;

They pay the most attention to the quality and production capacity of pouch packing machine,so they are also the largest market.

With the increasing investment of foreign companies in India's food processing industry,especially drinks,dairy products,processed food,edible oil and seafood processing,the market demand for packing machinery has been expanded.

The hot-selling packing machine in the Indian market include automatic bag making-filling-sealing packaging machines,automatic weighing filling packaging machinery,filling machinery,various sealing machines,labeling machinery,vacuum packaging machinery,bundling,wrapping machinery and Inspection machinery,etc. Pouch packing machine suppliers in India usually import pouch packing machine from China and then do local sales to meet the basic needs of the industry.

Below are some stand up pouch packing machine India:
● Masala packing machine in India
Masala packing machine suppliers in India also import automatic pouch packing machine from China to India and sell them to local users for packaging various masalas,such as Garam Masala,Vindaloo Masala,etc. It is also used to package spices,so it is also called spice packing machine.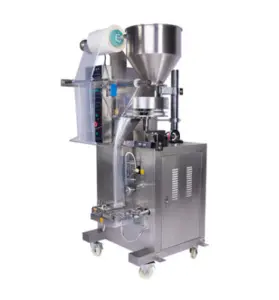 ● Tea pouch packing machine
The tea bag packing machine in India is suitable for automatic packaging of granular materials such as tea,seeds,medicine,and health care products. This machine can realize the packing of inner and outer bags at the same time. It can automatically complete the bag making,measuring,filling,sealing,cutting,counting and other processes at one time.

Tea pouch packing machine has a wide range of packaging,replaces manual packaging,realizes packaging automation for large enterprises,small and medium-sized enterprises,improves production efficiency in all walks of life,and greatly reduces costs.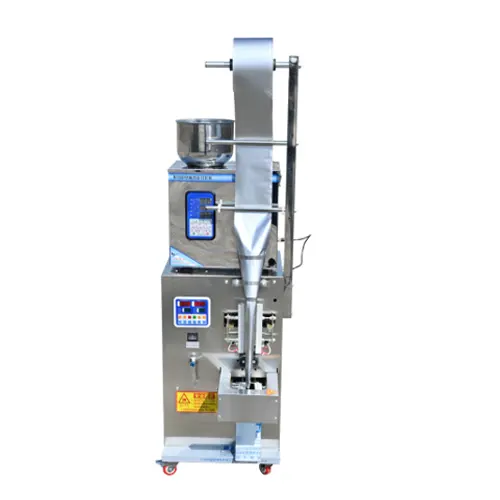 ● Liquid packing machine in India
Our tranport team ship the pouch packing machine for liquid to water pouch packing machine suppliers in India ,so you can see a lot of small liquid packing machine in India locally. Locals use them to pack all kinds of beverages,beverages,mineral water,etc.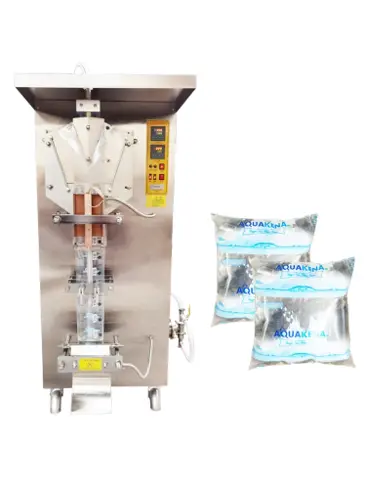 ● Chips packing machine in India
Chips packing machine in India is mainly used to pack various kinds of lumpy and flaky snacks,such as potato chips and so on. It can be equipped with an automatic feeding machine to avoid the risk of feeding at high places,protect the safety of workers,and improve packaging efficiency at the same time. Welcome to contact us for chips packing machine price in India.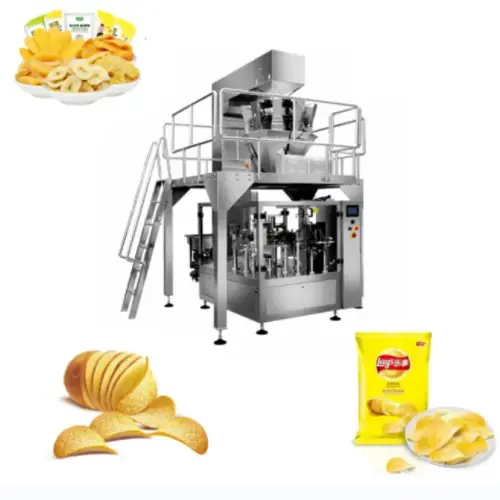 ● Powder packing machine in India
Powder packing machine in India is mainly used to pack various powder materials,such as paprika powder,curry powder,chili,black pepper,cardamom,clove,ginger,garlic,fennel,cinnamon powder,etc.

It is usually used with a screw feeder,can avoid the material waste and soils the machine caused by flying powder,and it can also protects the powder materials from getting wet due to contact with the air,and also ensures the cleanliness of the powder materials,saving labor and improving efficiency. It is very popular with users.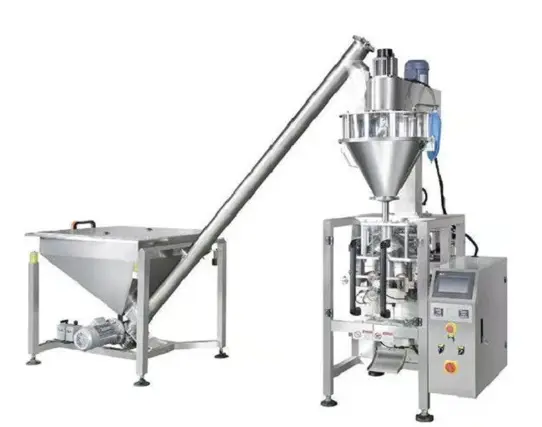 Welcome to contact us for more information of sachet packing machine for India.