colloid mill machine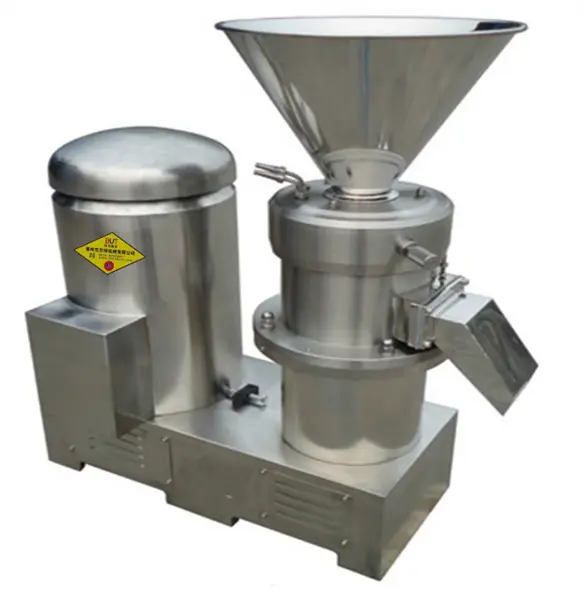 ◆ What is colloid mill?
What does colloid mill mean? The Colloid mill is a type of mechanical equipment used for chemical grinding and processing of fluids and semi-fluid materials. A colloid mill is a centrifugal-type equipment, The main advantages of colloid mill are: simple structure, easy equipment maintenance, wide range of colloid mill uses, and suitable for materials with higher viscosity and larger particles.

Colloid mill machine integrates the various functions of homogenizer, ball mill, three-roll mill, agitator, and other machinery, and the colloid mill working efficiency is several times that of the above machines. Colloid mills can be widely used in the food, chemical, cosmetic, light industry, plastic and other industries. It has high-quality colloid milling functions such as ultra-fine crushing, dispersion, emulsification, mixing, etc. The particle size of the material processed through this colloid mill machine can reach 2-60 micrometers, and the homogeneity can reach more than 95%. Colloid mill machine is an ideal equipment for ultra-fine processing.
◆ Colloid mill specifications
| | |
| --- | --- |
| Product Name: | Split-type colloid mill machine |
| Model No.: | YSJTM-130 |
| Material processing fineness (um) | 2-50 |
| Output(colloid mill capacity) (t/h) | 0.2-6 t/h (Varies according to the nature of the material) |
| Motor parameters: | - |
| Power (kw) | 11 kw |
| Voltage (v) | 380 v |
| Colloid mill speed (n/min) | 2930 n/min |
| Rotor diameter (mm) | 130 mm |
| Machine size (L*W*H) (mm) | 975*456*1054 |
| Machine weight (kg) | 200 kg |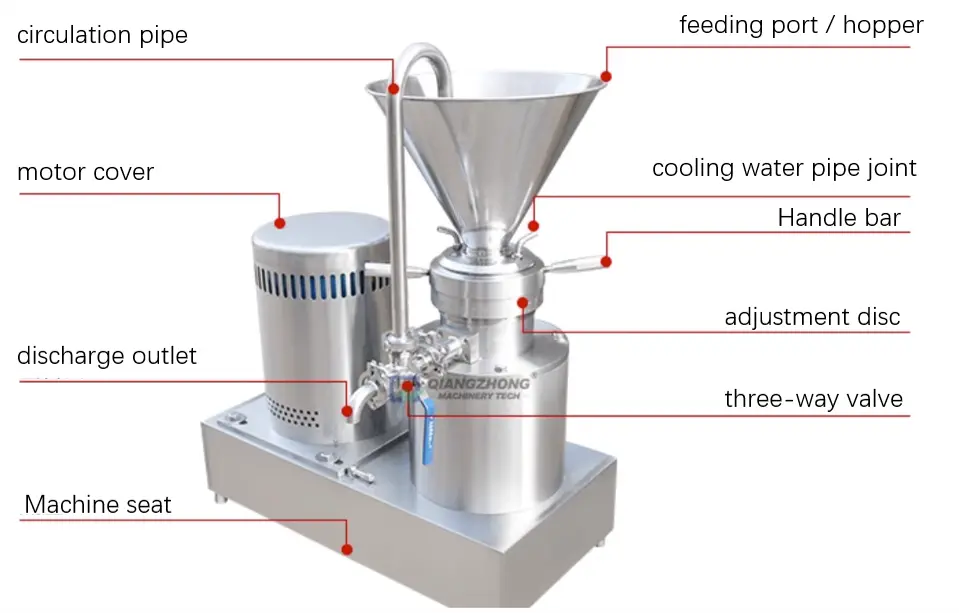 ◆ Colloid mill function
In the previous content, we introduced colloid mill machine definition, now let's take a look at uses of colloid mill, which is also showed as colloid mill purpose. Colloid mill machine is a commonly used wet grinding and refining equipment, mainly used for the processing and treatment of materials. It has the following main functions:

1. Grinding and refining: The colloid mill grinder can quickly and efficiently grind larger particle size materials into smaller particles. By adjusting the colloid mill rotor stator clearance and colloid mill speed, different fineness requirements of materials can be achieved.

2. Dispersion and emulsification: The colloid mill machine can fully mix and emulsify solid materials with liquids, making solid materials uniformly suspended in liquids and forming stable colloidal systems. Colloid milling is important for materials and products that require uniform dispersion or emulsification, such as coatings, emulsions, sauces, etc.

3. Improving flowability: The processing by colloid mill machine improves the flowability of materials. It not only reduces the viscosity of materials, but also enhances flowability, making materials easier to convey, fill, and process.

4. Improving quality: The colloid mill machine can improve the texture, taste, and uniformity of materials, and reduce the size difference of particles. This is significant for the quality of products in industries such as food and pharmaceuticals.

5. Increasing stability: The colloid mill machine can make micro particles in materials disperse more stably in liquids, preventing precipitation and phase separation. Colloid milling is important for the stability enhancement of products such as emulsions and colloidal solutions.

In summary, the function of colloid mill is very powerful, it improves the texture and performance of materials through grinding, dispersion, and emulsification, meeting the needs of different industries for material processing and treatment.
◆ Colloid mill uses
Colloid mill machine is widely used in the following industries:
● Food industry: In the food industry, colloid mills can be used to process fruit pulp, juice, protein milk, soy milk, milk tea, dairy products, beverages, etc., such as colloid mill coffee, etc. Colloid mill machine can also process various types of sauces, common applications include: colloid mill mayonnaise, colloid mill for peanut butter, etc.;

● Pharmaceutical industry: The colloid mill pharmaceutical and colloidal suspension can process various types of syrups, nutritional solutions, traditional Chinese medicine ingredients, paste pharmaceuticals, etc.; ● Daily chemical industry: In the field of daily chemical industry, colloid mill is commonly used to process shoe polish, toothpaste, cosmetics, balm, soap, detergent, etc., such as colloid mill emulsion, colloid mill for bitumen emulsion;

● Other industries: In addition to the above colloid mill uses, the colloid mill particle size reduction function can also be used in the construction industry, paper industry, battery industry, etc.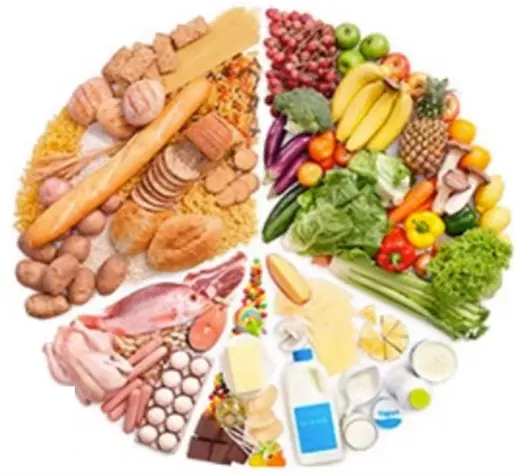 ◆ Colloid mill type
Due to different classification methods, there are many colloid mill types. For example, according to the structure of the colloid mill, it can be divided into vertical colloid mill and horizontal colloid mill; according to the size and power of the colloid mill, it can be divided into large colloid mill, medium colloid mill and small colloid mill; according to colloid mill capacity and application scenarios, it can be divided into household colloid mill and industrial colloid mill machine, etc.

Here we only introduce the colloid mill type of the colloid mill machine in this article. It is a horizontal colloid mill and usually use as an industrial colloid mill machine. According to the discharging method of this colloid mill machine, it can be divided into the following two categories:
● Square mouth colloid mill: This colloid mill type is suitable for medium and high concentration materials, such as peanut butter, chili sauce, etc., which do not require flow grinding.
● Circulating tube colloid mill: This colloid mill type is suitable for materials with low concentration and needs to be recycled and ground, such as soybean milk and mung bean beverage.
Customer can choose the property colloid mill type base on their actually production needs like the material nature and the output requirement etc.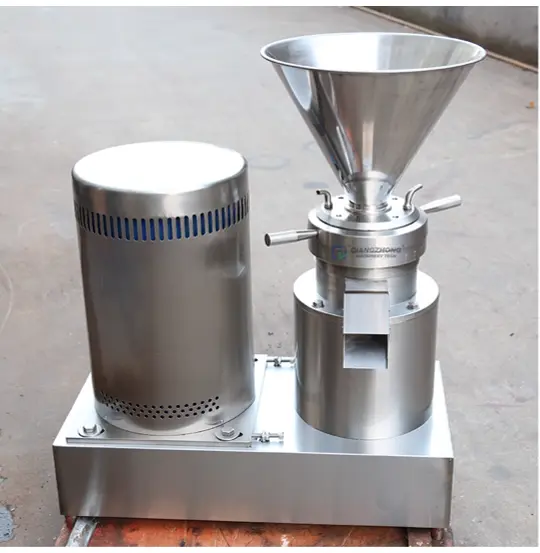 Square mouth colloid mill machine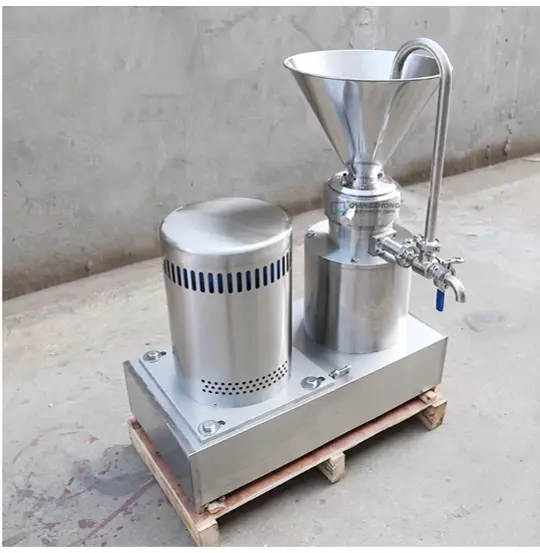 Circulating tube colloid mill machine
◆ Advantages of colloid mill
This colloid mill not only retains the characteristics of traditional colloid mill machine, such as reasonable structure, simple operation, easy maintenance, small size, and light weight, but also has the advantages of wide adaptability, simple and quick variable speed, and the ability to exchange different types of motors for different processing objects.

1. The colloid mill material is mainly stainless steel. Especially the colloid mill parts which in contact with processed materials are made of high-quality stainless steel to ensure the health and hygiene of the processed materials.

2. The colloid mill machine in this article is a split colloid mill type. The motor of the colloid mill and other colloid mill parts are installed separately. The motor has better heat dissipation effect, making the colloid mill properties more stable and colloid mill working longer.

3. The main working parts of the machine are the colloid mill rotor stator, which are well processed. The gap between the stator and rotor of the colloid mill machine can be finely adjusted through a positioning disk, which is equipped with a scale plate for easy control and to ensure the processing quality of the product.

4. Different materials of colloid mill rotor stator can be selected for different purposes, and it is easy to disassemble and assemble.

5. The colloid mill speed can be adjusted, and users can order the appropriate colloid mill speed according to the material processing situation.
◆ Principle of colloid mill
The colloid mill machine working principle also shows how does colloid mill works. The working principle of colloid mill is that under the high-speed rotation of the colloid mill rotor stator with different geometric shapes, the processed material is subjected to strong shear force, frictional force, impact force, vibration and other composite forces through the annular variable gap formed by the relative motion. This is due to the effect of its own weight, air pressure and centrifugal force. The material is effectively dispersed, crushed, emulsified, mixed, and thus obtains the desired product.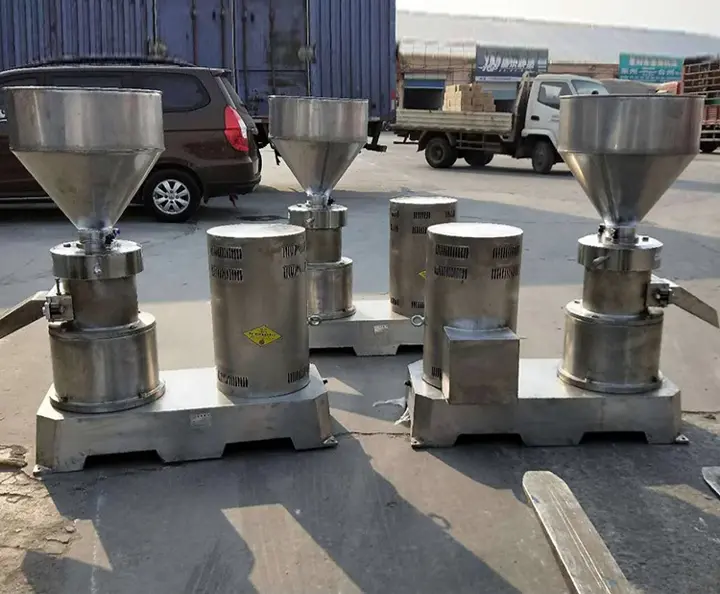 Please feel free to contact us for more information about colloid mills, such as colloid mill images, colloid mill price, colloid mill manual etc. If you provide us with information about the materials you need to process, we would be happy to recommend a suitable colloid mill machine model for you. Except this colloid mill, we also have other types of pouch packing machine, you can click to view more.