colloid mill mayonnaise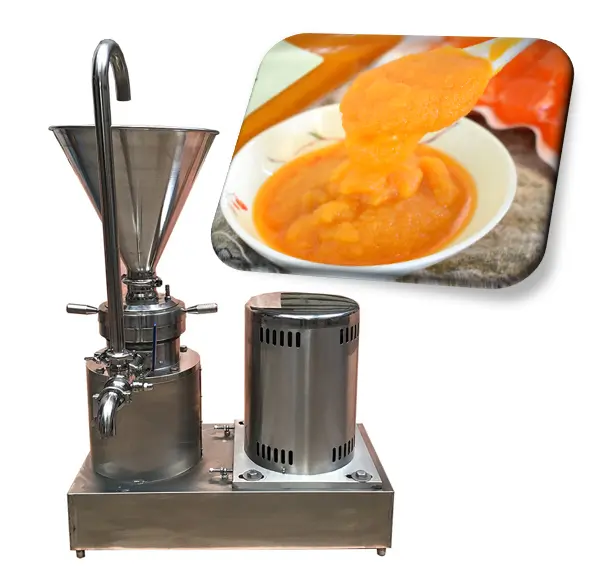 ◆ What is colloid mill?
Some people are not very clear about colloid mill machine definition and colloid mill for what purpose. Let's make a brief introduction here. Colloid mill is a centrifugal emulsification equipment. The role of colloid mill is to crush, emulsify, homogenize and mix fluid or semi-fluid materials to obtain satisfactory finely processed products. The function of colloid mills is powerful and the colloid mill uses is also various, so colloid mills are widely used in food, medicine, biology, chemical industry and other fields. The colloid milling machine can deal materials with high viscosity and large particles, so the colloid mill for sale is usually used in the front process of the high-pressure homogenizer. Colloid mills are often used for refinement when there are many solid substances.
◆ Introduction of colloid mill mayonnaise
The colloid mill mayonnaise introduced in this article is an emulsification equipment for mayonnaise. Mayonnaise is a kind of seasoning oil composed of edible vegetable oils, vinegar, juice, egg yolks, egg whites, salt, sugar, vanilla, chemical seasonings, sour seasonings and other raw materials. It is an oil-in-water (O/W) type emulsion, emulsification is the key technology of mayonnaise production. Using colloid mill mayonnaise can achieve better emulsification effect and process more delicious mayonnaise.

This colloid mill mayonnaise is a type of food colloid mill machine. It uses stainless steel colloid mill material, except the motor, the other colloid mill parts, especially those colloid mill parts which are in contact with the processed material, are made of 304 stainless steel, which is healthy and hygienic, and is especially suitable for use in the food industry. The colloid mill mayonnaise has a wide range of applications. It can also be used as a colloid mill for peanut butter, colloid mill emulsion, colloid mill coffee, etc., The role of colloid mill is very important in the processing of ice cream, moon cake fillings, dairy products, chocolate, bean paste, jam, peanut butter, cream drinks, etc.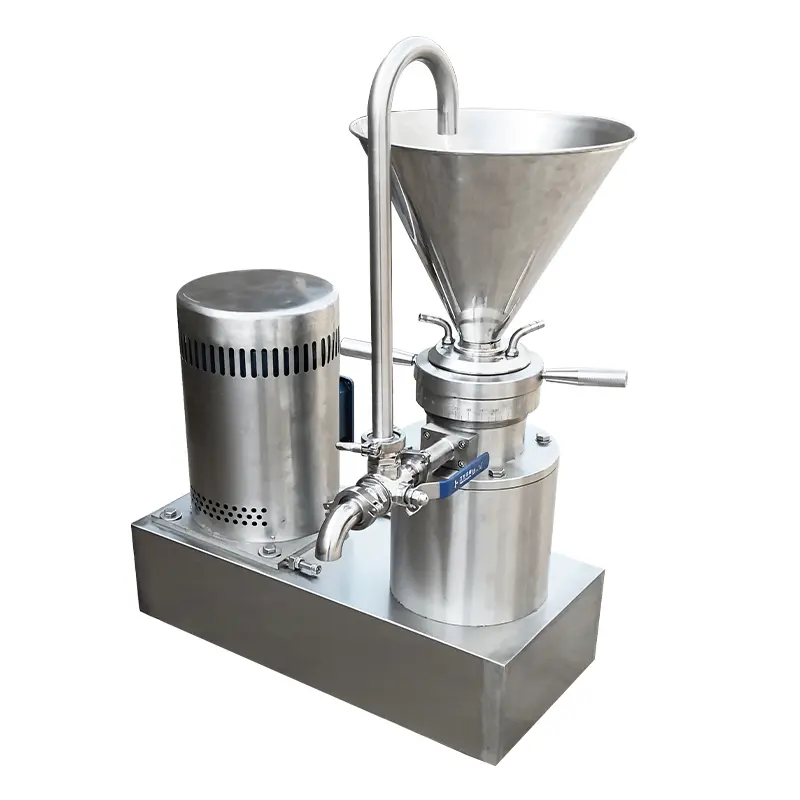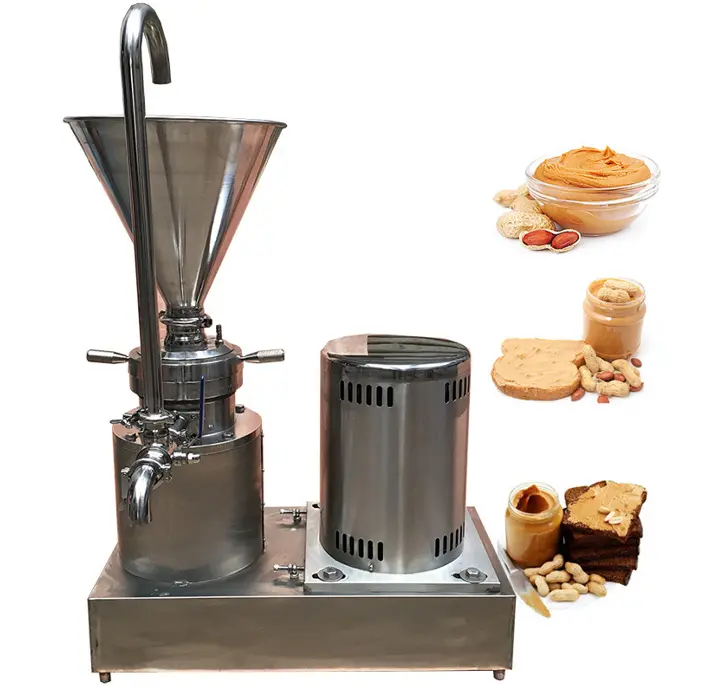 ◆ Colloid mill specifications
Our colloid mills are a series of products with a wide range of colloid mill types and colloid mill specifications. When purchasing colloid mill machine, we suggest you to select the corresponding colloid mill type and colloid mill specifications based on your actual conditions such as the nature of the materials to be processed and production requirements. The colloid mill mayonnaise introduced in this article is the JMF-120 in the table below. It is an industrial colloid mill machine with big power, fast discharging, has high colloid mill capacity, and can be used for high production volume. If you have higher requirements, you can also choose a larger colloid mill type. Welcome to consult us for the detailed colloid mill working process.
colloid mill specifications
Model(F Split)
Motor power(kw)
Colloid mill speed(r/min)
Processing fineness(μm)
Colloid mill capacity(t/h)
Grinding disc diameter(mm)
Cooling water pipe(mm)
Outlet(mm)
Inlet(mm)
Weight(kg)
Dimension for reference(L*W*H)
JML-50
1.5kw-220v
2900
2-40
0.01-0.1
50
10
20
30
60
255*500*700
JML-65
2.2kw-220v
2900
2-40
0.02-0.5
65
10
20
30
70
500*345*675
JML-80
3.0kw-380v
2900
2-40
0.3-1
80
12
25
48
140
700*570*920
JML-100
5.5/7.5kw-380v
2900
2-40
0.5-2
100
12
25
66
230
800*645*980
JML-120
7.5kw-380v
2900
2-40
0.5-3
120
12
32
66
240
800*645*980
JML-140
7.5/11kw-380v
2900
2-40
0.5-4
140
12
32
66
290
800*750*1020
JMF-180
15kw-380v
2900
2-40
0.5-6
180
12
38
100
360
900*850*1200
JMF-200
18.5/22kw-380v
2900
2-40
1-10
200
12
38
100
400
900*850*1200
Note:
1. The "F" in the colloid milling model "JMF" stands for split colloid mill type, which means that the motor of this colloid mill machine and other colloid mill spare parts are placed separately. The colloid mill properties are more stable;
2. When making improvements that do not affect the colloid mill construction and colloid mill properties, we won't further notice one by one;
3. The data in the colloid mill specifications table are for reference only. The measurement medium is water. The actual colloid mill capacity depends on the viscosity of the material and finished product quality requirements;
4. JMF-50 to JMF-65 colloid mill grinder usually be equipped with 220V motor (single-phase household appliances), JMF-80 (3kw) and above colloid mill types are all 380V voltage, which can be used as industrial colloid mill machine.
5. If you are confused in selecting the colloid mill type and colloid mill specifications, please contact us for more communication.
◆ Colloid mill uses
The colloid mill uses is very widely and is often used as an industrial colloid mill machine in various fields. Colloid milling machine is the most widely used in the food industry and the role of colloid mill is very important. Colloid milling machine can be used for the reprocessing of meat and seafood products and the deep processing of fruits, vegetables, grains and agricultural products. Common uses of colloid mill include: chili sauce colloid milling, meat colloid milling, colloid mill coffee, colloid mill peanut butter, colloid mill mayonnaise etc.; The mechanism of colloid milling is using shearing, grinding and high-speed stirring forces to carry out wet fine crushing and powerful disperse and mix. This type colloid mill mixer is very suitable for precision material processing in the food and chemical industry. It is an ideal processing equipment for processing fine materials. Let's take a look at some exactly colloid mills usage examples.
● Food industry: In addition to be used as chili sauce colloid milling, meat colloid milling, colloid mill coffee, colloid mill peanut butter, colloid mill mayonnaise etc., the colloid wet mill in the food industry can also process aloe vera, coconut juice, chili sauce, sesame, ice cream, moon cake fillings, jam and bean paste, dairy products, soy milk, condiments, various foods and beverages, etc. ;
● Pharmaceutical industry: Colloid mill pharmaceutical and colloidal suspension can be used to process various syrups, nutrient solutions, Chinese patent medicines, cod liver oil, royal jelly, various oral liquids, various ointments, etc.;
● Chemical industry: The more common colloid mills in the chemical industry include: colloid mill asphalt emulsion, etc., they are suitable for processing of paints, coatings, lubricants, adhesives, detergents, synthetic leather, etc.;
● Daily chemical industry: The colloid mill emulsion is more suitable for toothpaste, detergent, shampoo, shoe polish, high-end cosmetics, soap, etc.;
● Other industries: In addition to the above colloid mills function, colloid mills can also be used in the plastics industry, textile industry, paper industry, and fine dispersion mixing of rare earth and nanomaterials;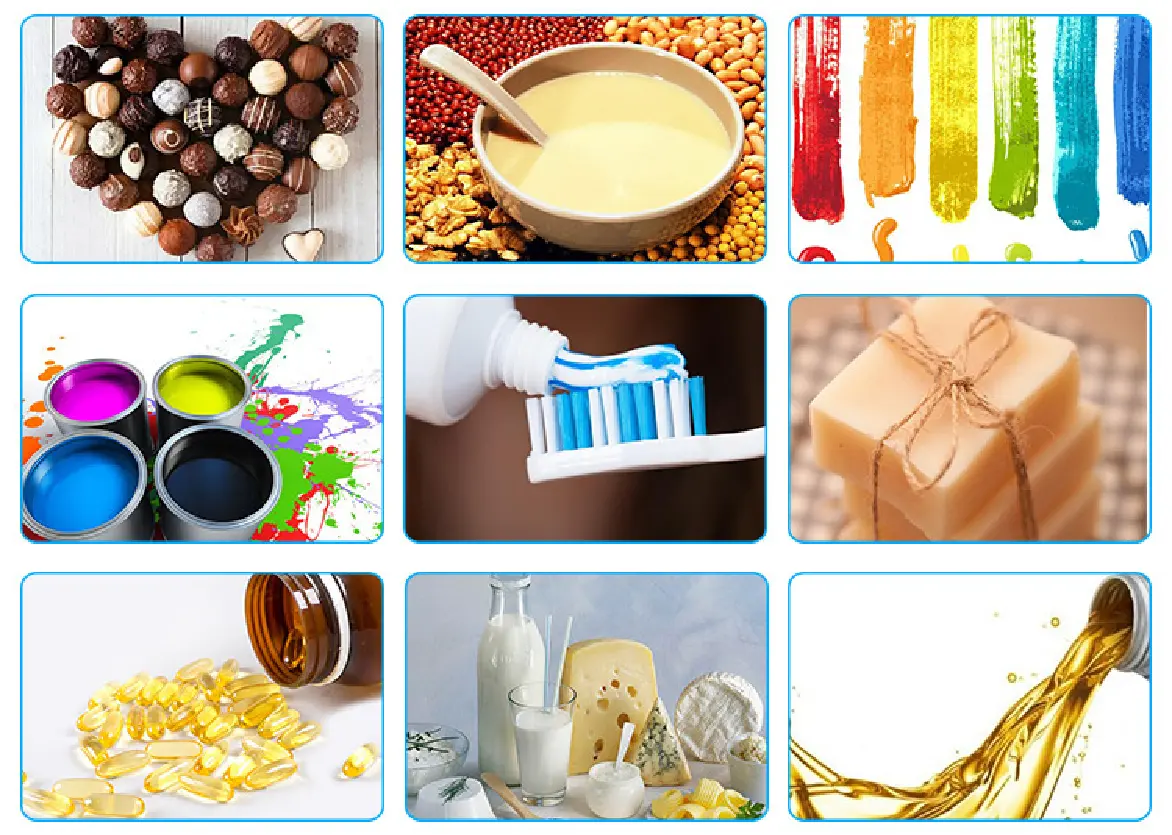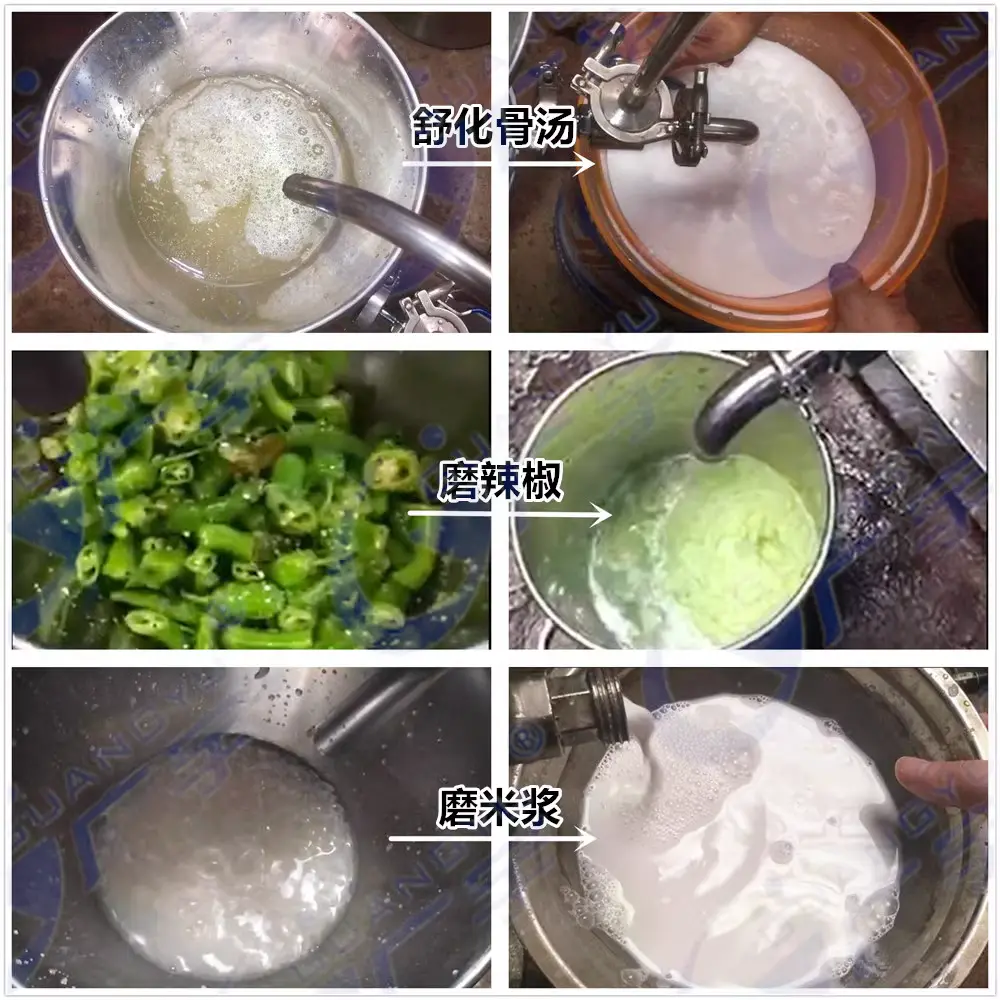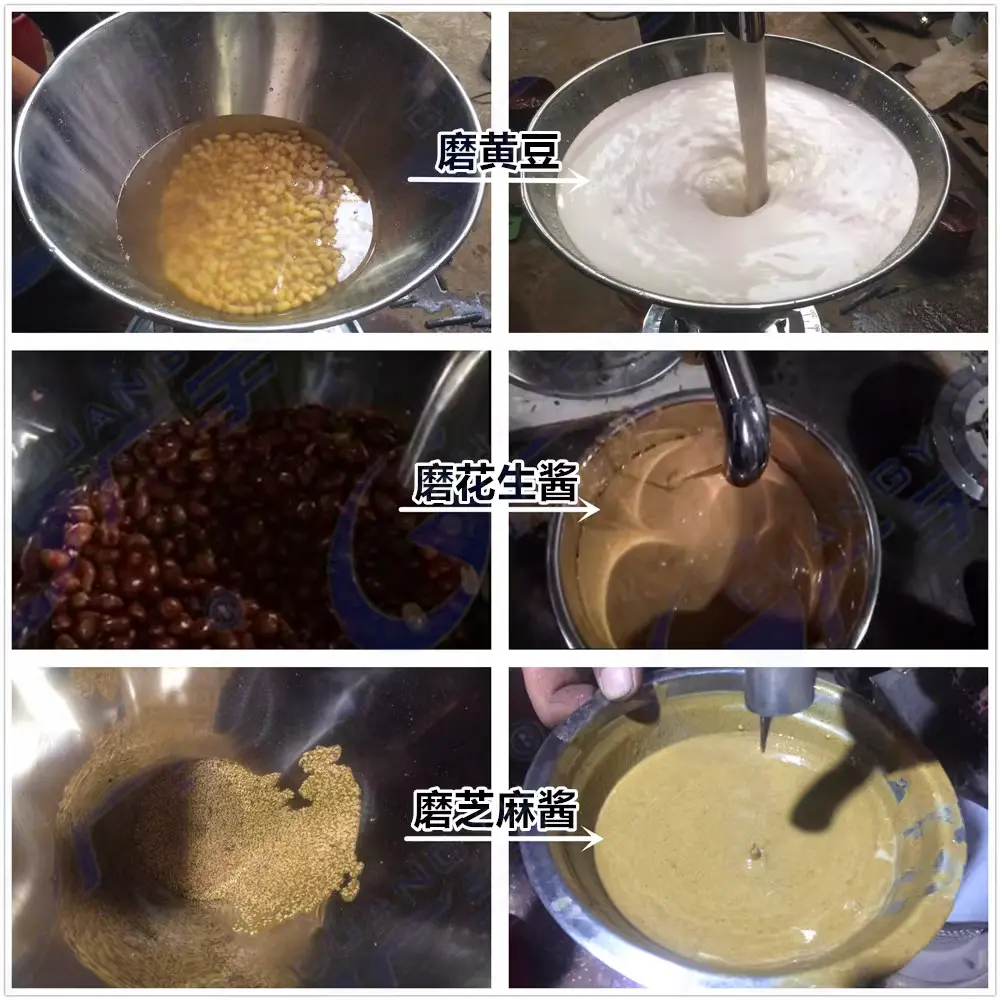 ◆ Colloid mill diagram
The colloid mills structures of the same colloid mill type are basically the same. Even for the different colloid mills manufactures, there are only a few small difference. Below picture shows the composition of colloid mill clearly, for your reference.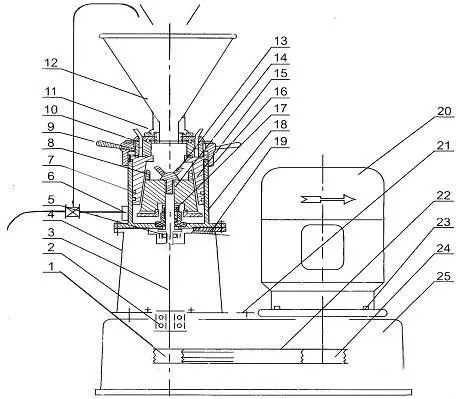 1. Main pulley
2. Bearings
3. Spindle
4. Base
5. Bearings
6. Outlet port
7. O-ring
9. Handle
10. Gland
12. Hopper
13. Rotary blade knife
14. Colloid mill rotor
15. Colloid mill stator
16. Adjustment dial
17. Seal components
18. Shell
19. Drainage hole
20. Motor
21. Adjustment screw
22. V-belt
23. Motor base
24. Slave pulley
25. Bottom base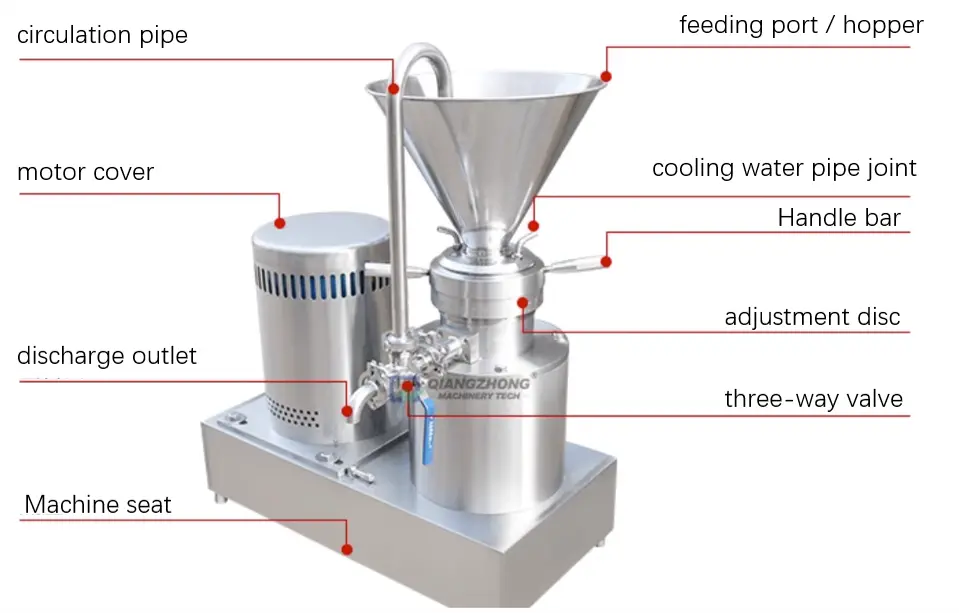 colloid mill construction
◆ Advantages of colloid mill
● Hopper specification is optional;
The hopper of colloid mill homogenizer is one of the colloid mill parts that directly contact with the material. The regular size of the hopper is 4-15L, it can also be customized according to customer needs.

● The colloid mill material is stainless steel which is good quality and clean;
The colloid mill machine body is made of stainless steel 304 which is high stability, strong wear resistance, strong corrosion resistance, no radiation and no rust, can meets hygienic requirements.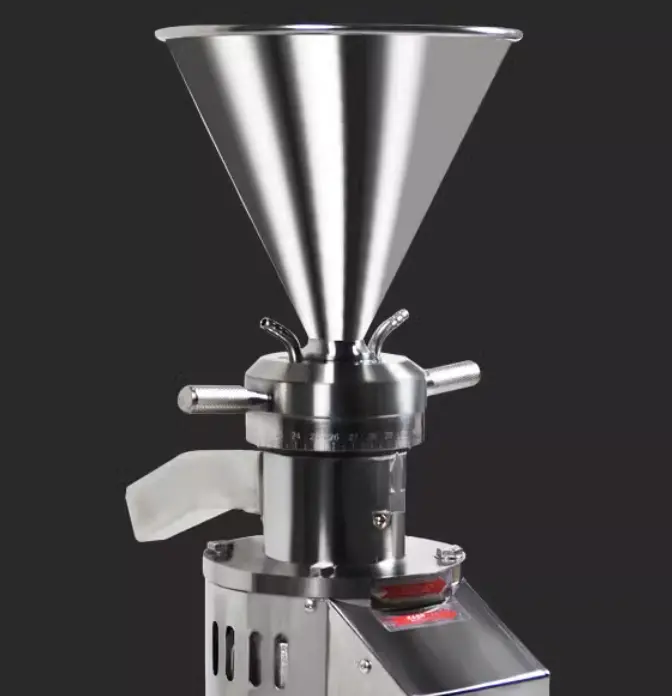 ● The blade type feeder and the rotary feeder are used together, which is more convenient;
If you want to use a colloid mill grinder to process materials which in big size or are easy to block the inlet port, you can add a rotary feeder to the colloid mill machine to prevent materials from blocking colloid milling feed port.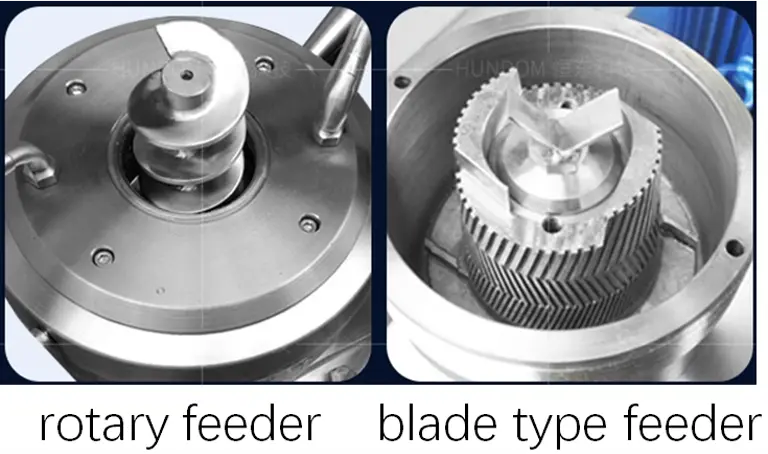 ● The colloid mill rotor stator specifications are customizable and the gap is adjustable.
The colloid mill rotor stator are the main working parts. The principle of colloid mill is to use the shear force, friction force, etc. which caused by the high-speed rotation of the rotor, to crush, emulsify and homogenize the materials that passing through the gap between colloid mill rotor stator, to obtain the desired product state. The gap between the colloid mill rotor stator is very small(usually between 0.1 mm and 2 mm). By adjusting the gap, you can control the material fineness.
● Before pouring the material into the hopper, we suggest you to turn the adjustment dial of the colloid mill unit counterclockwise to coarse grinding, and then adjust it clockwise to finer grinding after the material is pulped.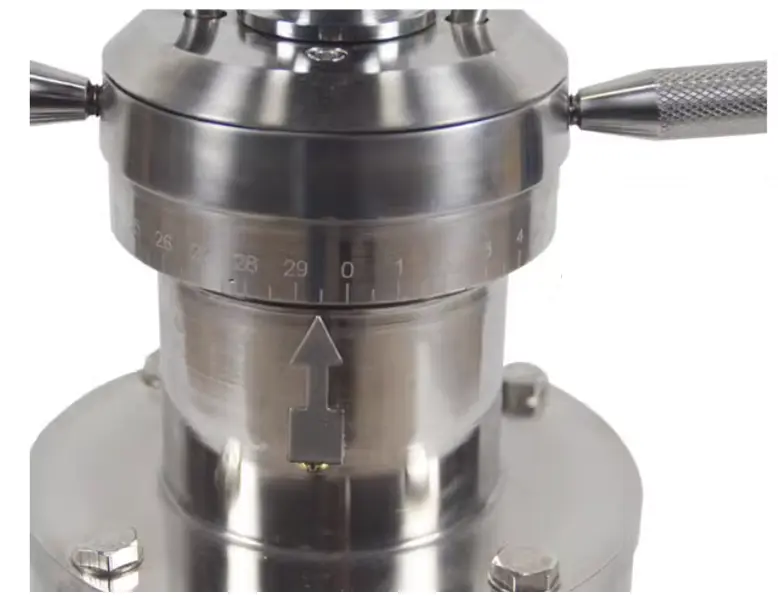 ● Equipped with cooling water pipes to make colloid mill working for long time.
Due to the fast colloid mill speed (2900/min), we equipped cooling water pipes to ensure the colloid mill not only can grind out fine and smooth product, but also ensure that the finished products won't get hot. So, if you want to use the colloid mill working for long time, please connect the cooling water pipe.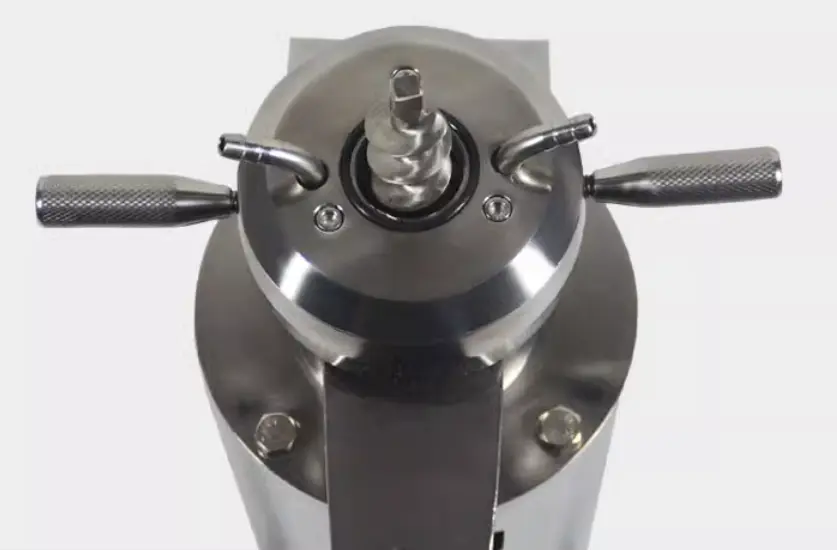 ● The colloid mill operation is simple.
Pour materials and water into the hopper of colloid mill and start it with one click, the colloid mill machine will complete the grinding and crushing work.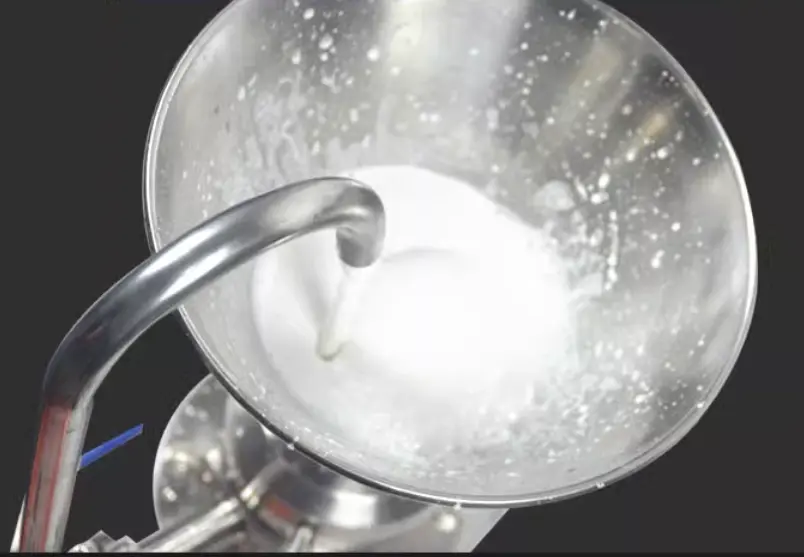 The colloid mill for sale has a wide range of applications, the colloid mill operation and maintenance is simple. Welcome to choose our colloid mill machine to achieve your various business possibilities! Please contact us quickly to get more information about colloid mill machine.