Colloidal suspension colloid mill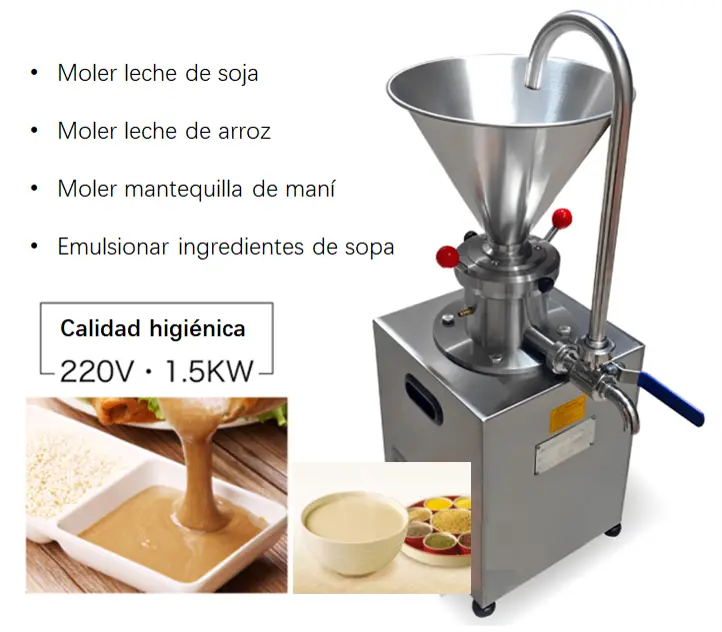 ◆ Colloidal suspension description
Here we introduces a colloid mill type - colloidal suspension. The colloidal suspension is commonly used for thin materials grinding such as rice pulp, soybean milk etc. and various suspending agents. Many big soybean milk processing plants will use colloidal suspension. The materials ground by colloid mill machine can not only achieve fine crushing, but also have a slight emulsification effect. So, the soy milk ground by the homogenizer colloid mill is thick, fragrant, and residue-free and the nutrients in the soy milk will not be lost. The slight emulsification effect of colloid milling makes the active ingredients of soy milk easier absorbed by the body, and the taste is better.

The colloid mill material is stainless steel, especially the colloid mill parts that contact with the processing material, they are made of food-grade stainless steel 304 or 316L, has a long service life, will not react to the material, safe and not easy to pollute. It is a vertical colloid mill with compact colloid mill construction design, it has excellent sealing, the colloid mill operation is also very easy. The motor cover is big square shape to ensure the motor has better heat dissipation. Due to this, it has excellent colloid mill properties and can work for longer time. And it is durable, has high production efficiency, and has a wide range of colloid mill uses. These advantages of colloid mill make it very popular among users.
◆ More introduction of colloid mill
● colloid mill meaning
What is colloid mill? Let's see colloid mill define together. A colloid mill is a grinding machine that is commonly used in various industries, including food processing, pharmaceuticals and chemical engineering etc. The function of colloid mills is to reduce the particle size of a solid that is suspended in a liquid or to reduce the droplet size of a liquid that is suspended in another liquid to achieve colloid mill purpose - particle size reduction.

● colloid mill principle
The working principle of colloid mill is to apply a strong and powerful hydraulic shear to the fluid material to achieve the purpose of colloid milling to break down the particles or droplets into smaller size. How colloid mill works? The colloid mill machine is consists of a rotor and a stator, both of colloid mill rotor stator have highly polished conical surfaces. The stator remains stationary, the rotor rotates at high speeds, creating a strong shearing force between the colloid mill rotor stator. This shearing force can effectively crush, homogenize and emulsify the materials flowing through the gap between colloid mill rotor stator, to complete the colloid mill particle size reduction process.

● colloid mill uses
The colloid mill particle size reduction function makes them to be used for processes such as homogenization, mixing, grinding, and particle size reduction, and are common used in the production of emulsions, suspensions, and dispersions. The multiple functional of colloid mills makes them popular in many industries where reducing particle or droplet size is required to achieve desired product characteristics.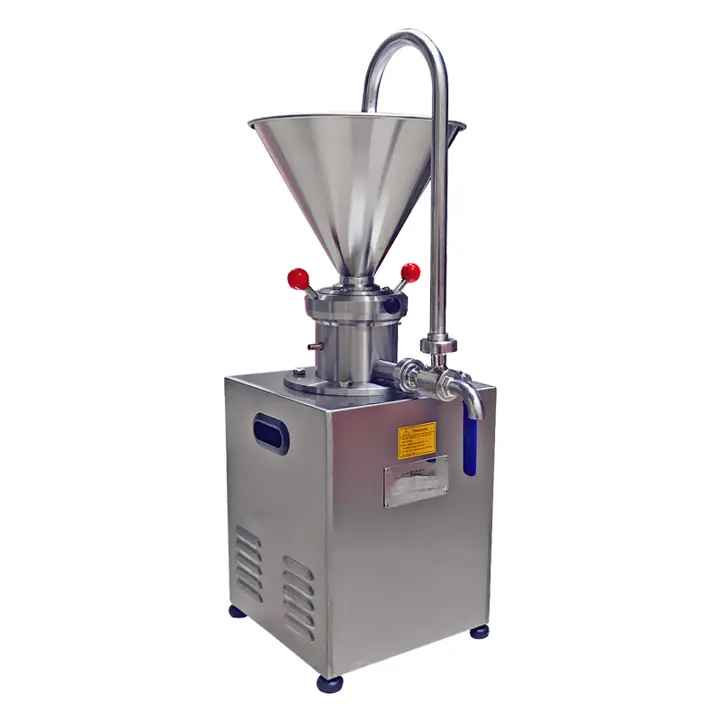 ◆ Colloid mill specifications
The function of colloid mill is very powerful and the uses of colloid mill are also very wide. In order to adapt to various working conditions and meet the production requirements of different users, we provide many different colloid mill types, the colloid mill specifications are also different. The colloid mill grinder introduced in this article is the "JMC60 vertical" in the below table. It should be noted that the colloid mill specifications data is for reference use, and some data may have little changes because of product upgrades, we should follow the actual product conditions. In addition, if you have special requirement, we can do customize colloid mill specifications for you.
colloid mill specifications
Model(F Split)
Motor power(kw)
Colloid mill speed(r/min)
Processing fineness(μm)
Colloid mill capacity(t/h)
Grinding disc diameter(mm)
Cooling water pipe(mm)
Outlet(mm)
Inlet(mm)
Weight(kg)
Dimension for reference(L*W*H)
JML-50
1.5kw-220v
2900
2-40
0.01-0.1
50
10
20
30
60
255*500*700
JML-65
2.2kw-220v
2900
2-40
0.02-0.5
65
10
20
30
70
500*345*675
JML-80
3.0kw-380v
2900
2-40
0.3-1
80
12
25
48
140
700*570*920
JML-100
5.5/7.5kw-380v
2900
2-40
0.5-2
100
12
25
66
230
800*645*980
JML-120
7.5kw-380v
2900
2-40
0.5-3
120
12
32
66
240
800*645*980
JML-140
7.5/11kw-380v
2900
2-40
0.5-4
140
12
32
66
290
800*750*1020
JMF-180
15kw-380v
2900
2-40
0.5-6
180
12
38
100
360
900*850*1200
JMF-200
18.5/22kw-380v
2900
2-40
1-10
200
12
38
100
400
900*850*1200
◆ Colloidal mill diagram
Below are some colloid mill images of colloid mill details and colloid mill diagrams of structure, they can help us to better understand the composition of colloid mill and colloid mill construction design and make colloid mill operation be more smoother and efficient, to realize the colloid mills function better.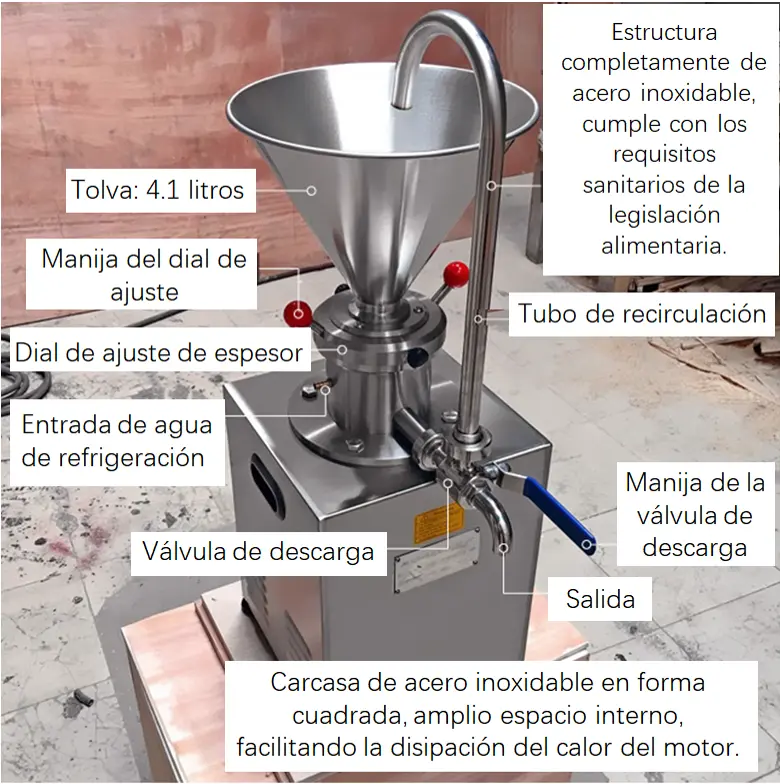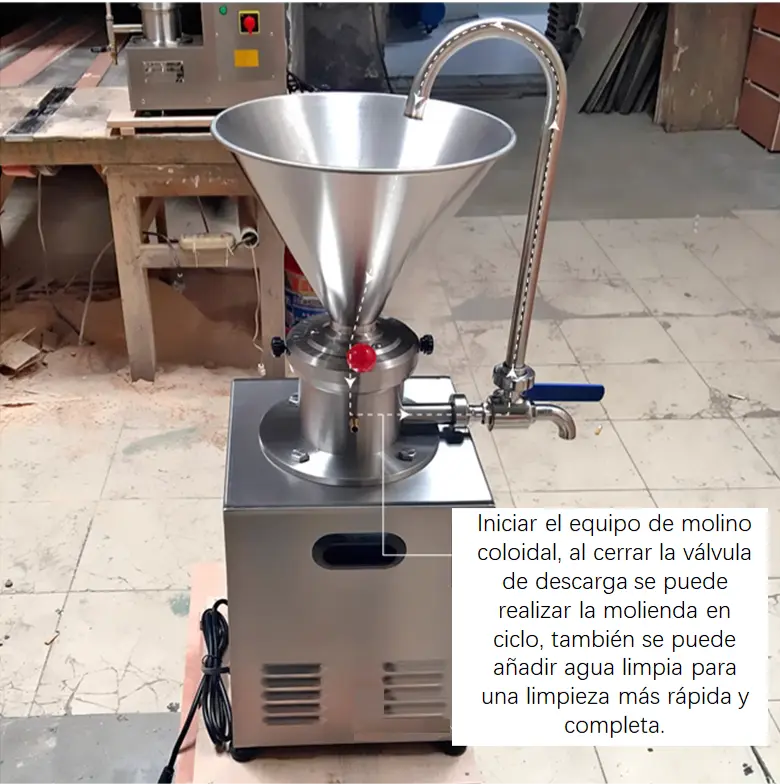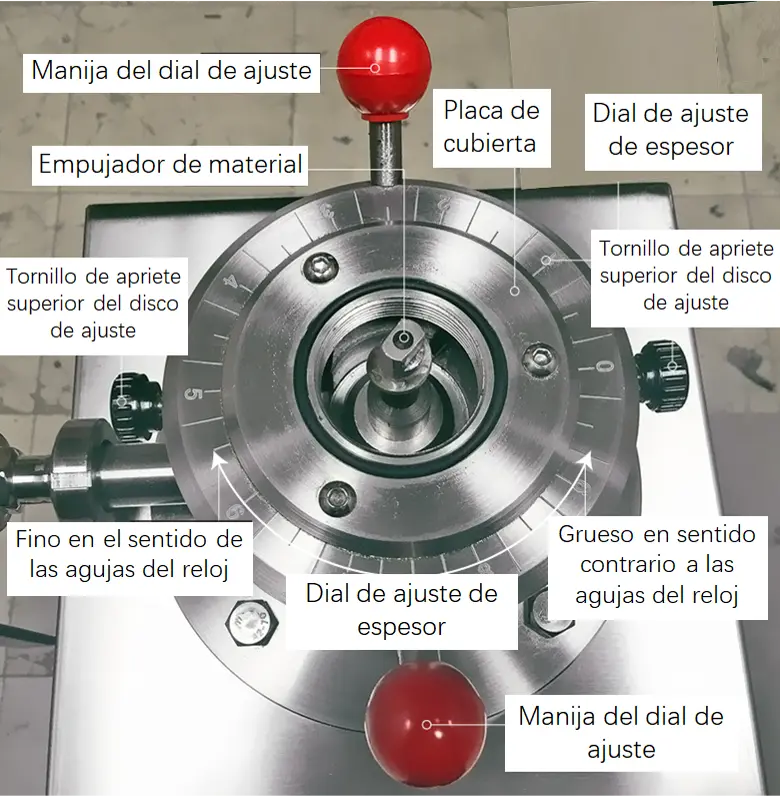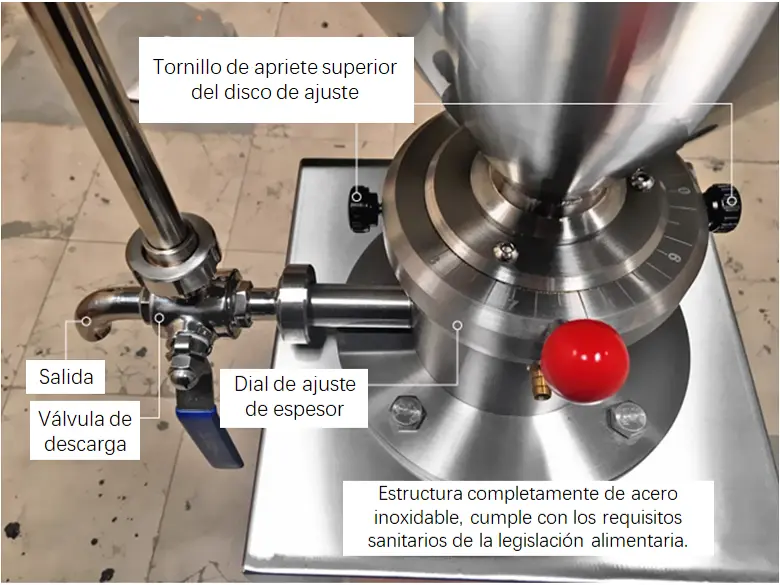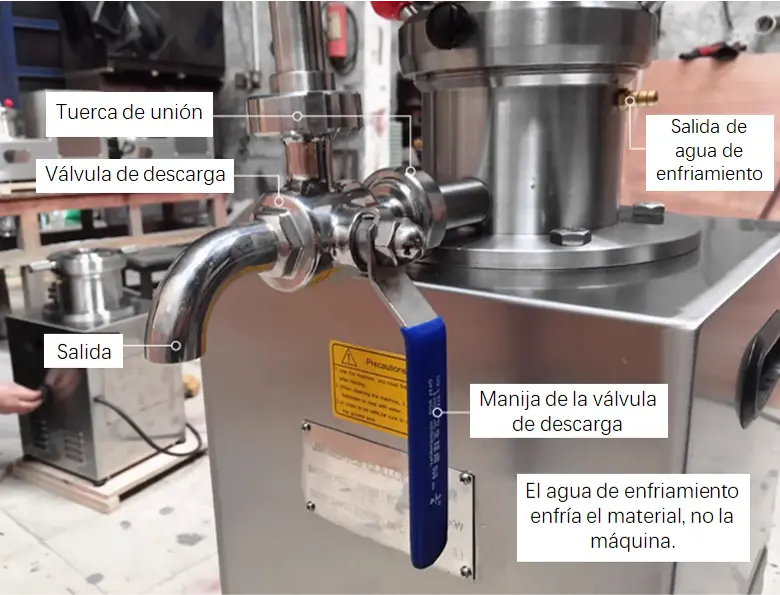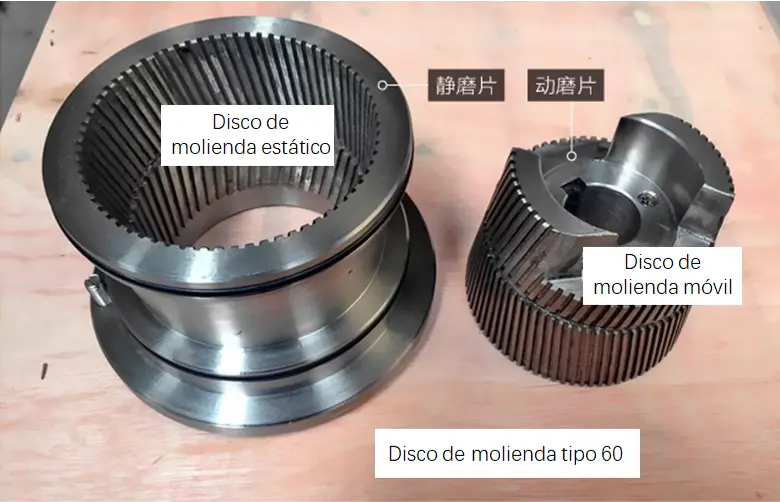 ◆ Advantages of colloid mill
We will introduce some advantages of colloidal suspension in this part. The colloidal suspension is a colloid mill homogenizer that used to produce suspensions. It has the following advantages:

● High efficiency: The colloid mill homogenizer has high efficiency in the process of materials crushing and mixing. Its special construction of colloidal mill design can quickly and evenly disperse solid particles into liquids, improving production efficiency.

● Uniform particle size: Through colloid milling, you can get very fine and uniform suspension particles. This is very important for certain applications that require fine particle dispersion, such as the emulsions, stabilizers, etc.

● Strong adjustability: The colloid milling machine can adjust the particle size of the material and the concentration of the suspension according to customer needs. You can get suspensions with different particle sizes and consistencies by changing the parameters of the colloid milling machine.

● Wide application: The colloid mill grinder can be used to process various types of suspensions like food, pharmaceutical, cosmetics, chemical and other fields. It can be used to make sauces, emulsions, pharmaceutical suspensions and other products.

● Easy to clean and maintain: We use easy cleaning colloid mill material to ensure meet the hygienic requirements. In addition, The colloid mill structure is simple, easy to operate and easy to do daily maintenance.

Please kindly note, the above advantages of colloid mill are for the general colloid mill type, the specific colloid mill machine models may be different.
◆ Suspensioncolloid mills usage
Colloidal suspension mill is a common industrial colloid mill machine. It is not only suitable for the soy milk industry, but also can be used as colloid mill coffee, colloid mill for peanut butter, colloid mill mayonnaise, etc. The cream, jam, juice, bean paste, lotus paste, chili sauce, sesame butter, peanut butter, etc. all can be made with this colloid milling machine, even in the chemical industry, pharmaceutical industry, paint and daily chemical industry, the colloid mill mixer has widely use too. Let's see below colloid mill examples:

1. Pharmaceutical Suspensions: Colloidal suspension mills are used as colloid mill pharmaceutical in the pharmaceutical industry to produce pharmaceutical suspensions. Colloid mills allow solid active substances to be dispersed in a liquid, facilitating their administration and absorption in the body. Additionally, the colloid mill particle size reduction function can help improving the stability and effectiveness of the medication.

2. Food Suspensions: In the food industry, colloidal suspensions are used to produce suspensions of ingredients such as colorants, flavorings, thickeners, and food additives. The colloid mill unit ensures uniform dispersion of particles in the liquid, thereby enhancing the appearance, texture, and taste of the food product.

3. Chemical Suspensions: Colloid mill machines are used in the chemical industry to produce suspensions of products such as pigments, inks, coatings, and adhesives. These colloid mill mixers help to disperse solid particles in the liquid medium, to get stable and high-quality suspensions.

4. Cosmetic Suspensions: In the cosmetics industry, colloid mill emulsions are used to produce suspensions of active ingredients in products like creams, lotions, gels, and other cosmetics. The colloid mill machine ensures uniform dispersion of solid particles in the base fluid, thereby improving the efficiency and appearance of the final product.

In summary, colloidal suspensions are multiple functional and efficient tools for producing suspensions in various industries. They can disperse solid particles in a liquid medium, they are ideal choice for achieving even distribution, enhancing stability, and optimizing suspension properties.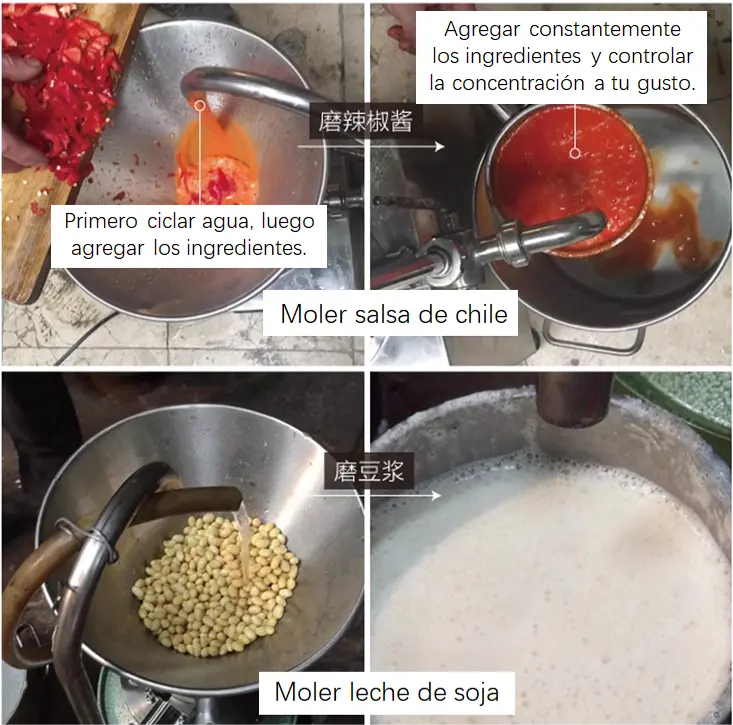 ◆ Colloid mill type selection knowledge
Many users are confused when they are choosing colloid mill types, they are not sure which colloid mill type is really fit for their production needs. Here we will make brief introduction about the knowledge of colloid mill type selection.
1. If the colloid mill machine has bigger power, you will get higher colloid mill capacity.

2. There are many different colloid mill types;
In order to adapt to different working conditions, colloid mills not only vary in models and colloid mill specifications, but also have various designs in colloid mill construction. The commonly models you can see are vertical colloid mills, split-type colloid mills, and horizontal colloid mills.

3. Different colloid mills models may have different grinding fineness. Some colloid mills can achieve a grinding fineness of 10-50 μm, while others can grind down to 2-50 μm. (Note: 1 millimeter (mm) = 1000 micrometers (μm)).

4. Different colloid mill types also have different function and usage conditions. For example, circulation pipe colloid mills are suitable for grinding low-concentration materials such as rice slurry, soybean milk, and fruit juice. While square outlet port colloid mills are suitable for grinding high-concentration materials such as peanut butter and sesame paste. Horizontal colloid mills are often used in production lines and are typically connected with pumps, filters, tanks, and other equipment.

Users can refer to above information, totally consider the characteristics of different materials to be processed, production efficiency, and various use, and choose the most suitable colloid mill machine for their needs. If you have any confusion regarding the colloid mill type selection, you can view our technical article "¿Cómo seleccionar el modelo adecuado de molino coloidal?" or contact us via WhatsApp, to communicate with us about your material details and production requirements, and we will recommend suitable colloid mill type accordingly.