320 small flow wrap machine
small flow wrap machineprice:5000 usd
The small flow wrap machineis an automatic continuous packing machine that completes weighing, bag making, filling, sealing, coding, and bag cutting all at once. It features a positioning system and belt feeding, which enable automatic detection of the size and position of materials.
Small flow wrap machineis suited for packing irregular products such as motocarro spare parts, steel pipes, switches, manuals, and more. The packing speed and effectiveness are excellent.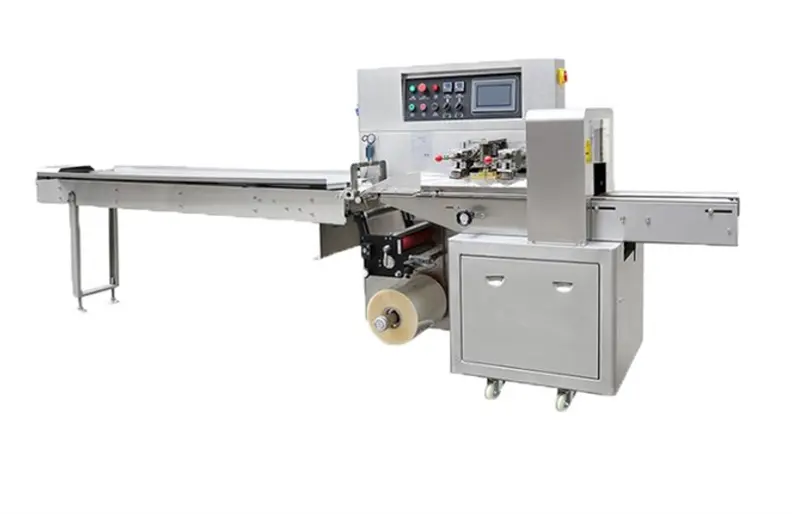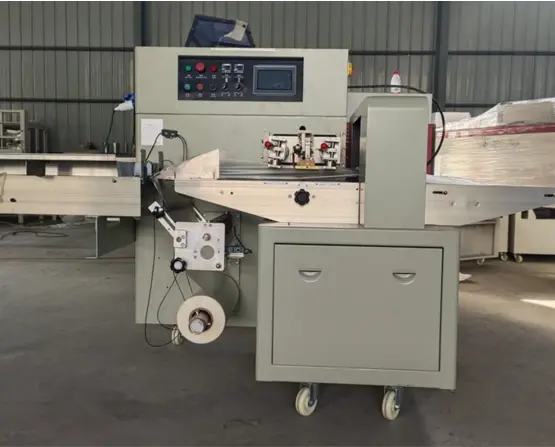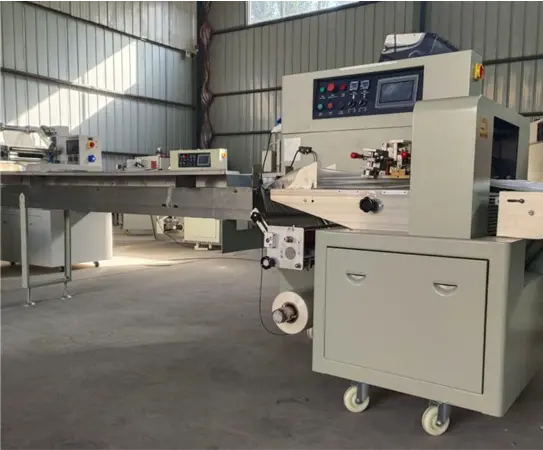 ◆ parameters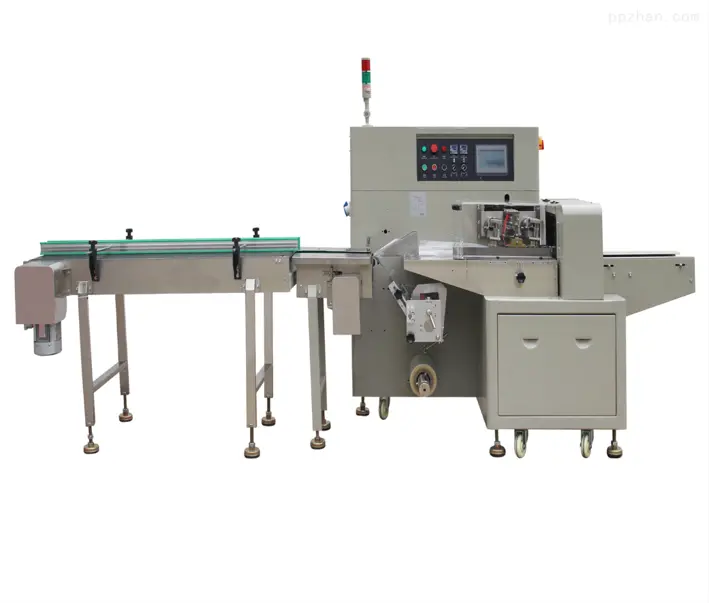 | | |
| --- | --- |
| Film width | Max 320mm |
| Bag width | 50-160mm |
| Product height | Max.45-60mm |
| Film roll diameter | Max 320mm |
| Packaging rate | 40-230bag/min |
| Packaging materials | BOPP、OPP、OPP-CPP、OPP-PE、ALU-FILM-PE |
| Machine weight) | 500kg |
| Power | 220V/2.6kw |
| Machine size | (L)3770×(W)720×(H)1450 |
| Remarks | Optional air filling device |
◆ details
High Sensitive Sensor
The high-sensitive sensor can accurately locate the position of the product, and there is no need for any specific material spacing.

•Pid intelligent temperature control
It is suited for different packing materials(such as BOPP、OPP、OPP-CPP、OPP-PE、ALU-FILM-PE )

•High-sensitivity photoelectric eye color
it can automatically identify the size of the product, so it can pack large size products(such as steel pipe).
•Adjustable mid seals
The height of the mid seals can be easily adjusted to accommodate different product sizes, ranging from 45-60mm

Constant temperature end seals
The temperature is stable, which helps to prevent curling and loopholes in the bags. This ensures that the bags are of high quality and meet the desired standards.
◆ application
small flow wrap machine has powerful functions, it is stable performance and wide adaptability. This machine adopts an intelligent human-machine interface and is easy to operate.

small flow wrap machine is popular in many fields, such as food, medicine, chemical industry, hardware, daily necessities, and other industries. If you want to pack more products, please check our website



◆ flow wrap machine considerations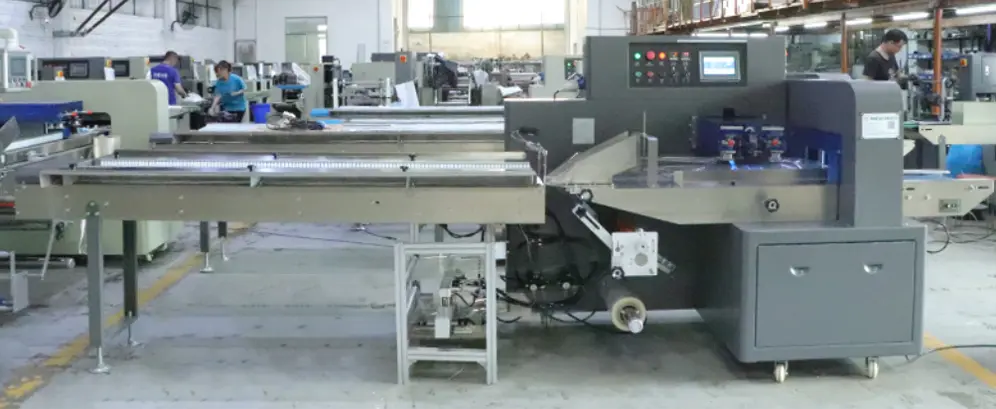 Correct operation and maintenance are very important to prolong the life of the flow wrap machine. It can improve packing efficiency and packing effects.

1.In the peak production season, it is important to regularly inspect, clean, and maintain each flow wrap machineto ensure optimal performance. These machines should not be used in high temperatures, humidity, or dirty environments as it can negatively impact their performance and lead to defects in the bags. Proper care of the machines can extend their lifespan and improve their performance, resulting in higher quality bags.
2. After proper training, operators can use these machines. However, non-professionals should not modify the data or disassemble the pillow packaging machine.
3. Before starting the machine, the operator should check the power supply and fastening parts of the pillow packaging machine, and clean up any debris on the table.
4. When repairing a packaging machine, only professional electrical maintenance personnel should perform the maintenance.
5. It is important to not touch the mid seals, end seals, or any other movable parts when packing products to avoid any potential hazards.
◆ Three feeding methods of small flow wrap machine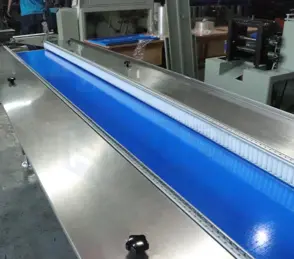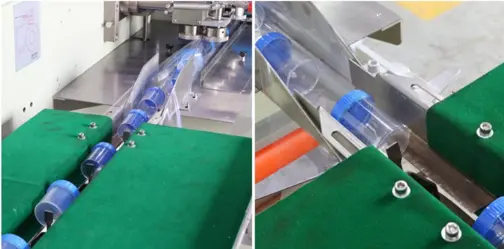 Different feeding methods have different advantages and disadvantages. Here are three feeding methods of small flow wrap machine. Users can choose suitable feeding ways according to different materials.

Chain feeding: The push blocks are on the chain, and the interval between each push block is the same, so the distance of the material is fixed. We can control the feeding speed through adjust the chain speed. This feeding method is suitable for regular materials or heavy materials. 250 mini flow wrap machine adopt chain feeding.
Advantages: The feeding method is stable, accurate, and fast.
Disadvantages: light materials are easy to get stuck in the gap.
Belt feeding: the belt control by the servo motor, and the packing spend depends on the servo motor. This feed way adopts an electric eye, which can detect material, so the distance of the material is not fixed. 450 flow wrap machine adopt adopts belt feeding.
Advantages: The feeding method is flexible, stable, and accurate, suitable for feeding different specifications materials.
Disadvantages: Belt feeding is suitable for packaging materials that do not require high product cleanliness. It is not suitable for relatively high or heavy materials.

Packing film feeding: The materials are on the packing film and the packing film is conveyed with the material. This feed way adopts an electric eye. 350 horizontal flow wrap machine adopt belt feeding.
Advantages: The feeding method is clean and hygienic, and the operation is stable and accurate. It is suitable for sticky materials.
Disadvantages: The feeding speed is slow.

If you want more knowledge about flow wrap machine, such as Differences and applications between top film feeding and bottom film feeding flow wrap machines, you can cleck our blog for more information.