flow wrap machines
Flow wrap machines are designed to replace manual packing and automate the packaging process for both large enterprises and small to medium-sized businesses. They offer many advantages, including a compact structure, fast packing speed, stable operation, and ease of use. The finished packaging is not only beautiful but also sturdy. With flow wrap machines, weighing, bag making, filling, sealing, coding, and bag cutting can all be completed in one go.

flow wrap machines are suitable for packaging various solid and regular products, such as biscuits, bread, moon cakes, candies, etc. It is widely used in food, chemical, daily necessities, medicine, and other industries.
◆ Our products
◆ About us
yansumigroup is a flow wrap packaging machine manufacturer in china, and we are committed to the design, manufacture, and sales of flow wrap machines. We have more than ten years of production express. The company has professional technicians, engineers, and an after-sales team. We have exported to many places, such as India, South Africa, the UK, Australia, and Europe. Our products have been widely used in pharmaceutical, daily chemical, food, pesticide, and other industries,

Welcome to visit our factory.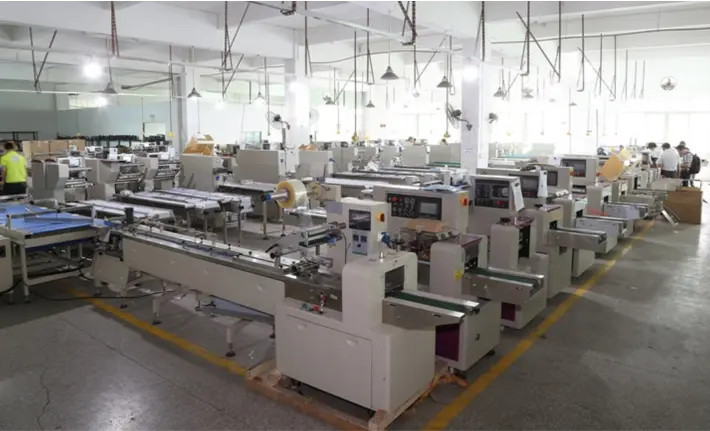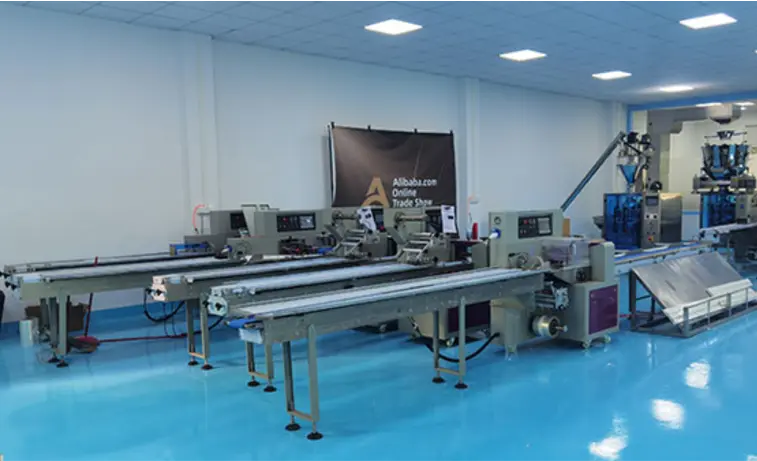 ◆ Our Advantage



high-quality parts
Our flow wrap machine parts have high-quality, mechanical parts made by large professional  CNC equipment. The electrical control system adopts advanced PLC technology.




sufficient stock
Our standard products have sufficient stock. We provide personalized customization services too, we finished produce in 7-14 days.




professional technical team
We have a professional technical team, and we provide Technical Support Online.




Own transport team
We have our transport team, don't worry about shipping, We will send the product to you quickly and safely.
◆ types of flow wrap machines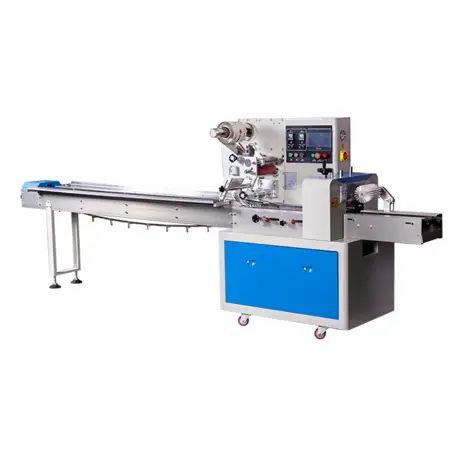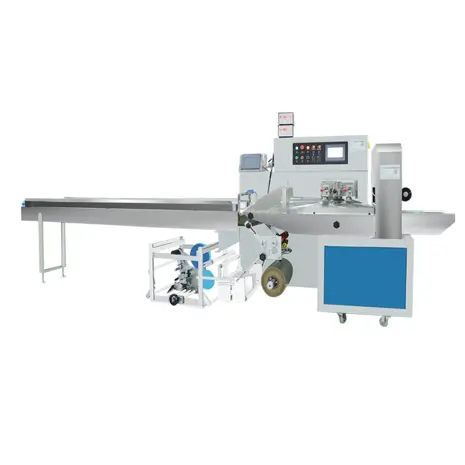 flow wrap machines have different classifieds according to different requirements.

● According to different products:flow wrap machine for biscuits,flow wrap food packaging machines, noodle flow wrap machine,flow wrap machine for paper, candy flow wrap machine, etc.

● According to different structures: down paper flow wrap machines, up paper flow wrap machines

1.Up Paper flow wrap machines: The packing film is above the product. It is suitable for regular products, such as cards, manuals, warranty cards, certificates, CDs, books, soap, combs, paper, sockets, dominoes, red envelopes, etc.
2.Down Paper flow wrap machines: The packing film is down the product. It is suitable for sticky products, such as candy, jellybeans, tumblers, jumping beans, sucker dolls, hardware, etc.

● According to different models:250 flow wrap machines,350 flow wrap machines,400 flow wrap machines etc.
◆ Five systems of flow wrap machine
flow wrap machine includes the following five systems:
1.sealing system
The sealing system of the flow wrap machines consists of mid seals and end seals. The sealing effect is good.

2. heating system
heating system heats the sealing knives, we can control the sealing knife temperature by the touch screen.

3. frequency control system
The frequency converter drives the sealing knife to seal, and the packing speed depends on the frequency converter drives speed.

4. Feeding system
The feeding system is driven by a servo, carrying the products into the packing bags according to setting spend. The feeding system ensures packing accuracy.

5. electrical control system
The power supply adopts a single-phase 220VI50Hz power, and the electrical system consists of PLC, inverter, servo system, human-machine interface, etc.
◆ flow wrap machine advantages
flow wrap machine is an automatic packing machine, it is widely used in different industries. This machine has advanced packaging technology, now we introduce seven advantages of flow wrap machine.

1.Improve packaging efficiency
The machine's packing speed is fast than manual packaging. When packing biscuits, the manual packs 10 packages per minute, and the machine packs 100 packages per minute. The machine packing efficiency has been improved ten times.

2. Impove packing effect
Flow wrap machine can change different packing styles according to different products. The length and width of the packaging bag are consistent.

3. Flow wrap machine has more functions
Flow wrap machine has more functions(such as , Vacuum packaging, inflatable packaging, exhaust packaging, etc). It can also use with other machines to form an automatic packaging line.

4. Reduce labor intensity
The flow wrap machine can work stably for a long time and reduces labor intensity.

5. Protect the health of the operator
As for toxic products or irritating products, flow wrap machine can reduce the contact of the product and protect the health of the operator.

6. Reduce packing cost
For loose products, such as cotton, tobacco leaves, silk, hemp, etc, flow wrap machine can reduce the volume of products, which reduces packaging costs and transportation costs.

7. Improve the hygiene of the product. There are strict packing requirements for food or medical products, This machine does not need to manually participate in the whole process, which makes products getting cleaner.