Semi-automatic ointment filling machine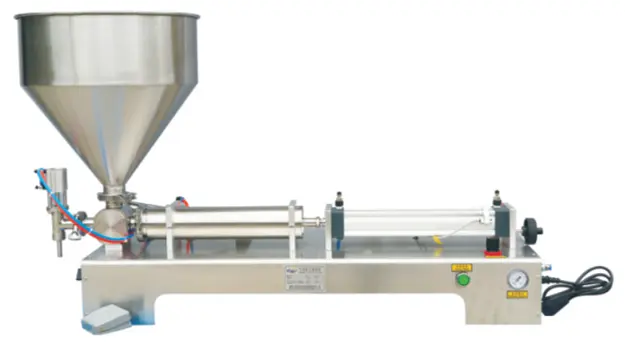 ◆ Semi-automatic Ointment Filling Machine Introduction
This semi-automatic ointment filling machine is available in single-head and double-head models, which are suitable for filling ointments in the daily chemical, pharmaceutical, food, ink, and paint industries.

◆ Principle and Features:
● This ointment filling machine is designed for filling products with medium to high viscosity.
● The machine consists of a material hopper and an electrical control system, with a simple structure and easy operation.
● Both the filling quantity and speed are adjustable, with high filling accuracy.
● The filling head adopts an anti-dripping and anti-drawing filling device.
● This machine can be modified into an explosion-proof filling system according to customer needs.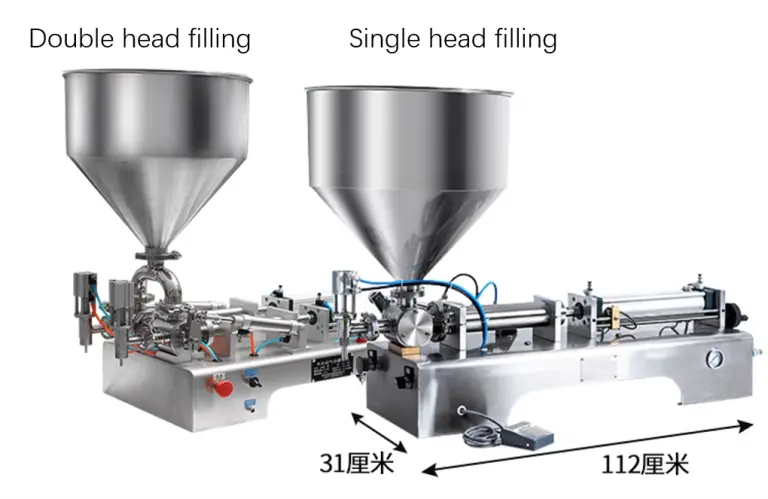 ◆ Technical Parameters
| Product name | Semi-automatic ointment filling machine |
| --- | --- |
| Model No.: | YS-1000 |
| Machine Type: | Filling Machine |
| Applicable Industries: | Food & Beverage Factory, Restaurant, Home Use, Food Shop, Other, |
| Application:  | Food, Beverage, Commodity |
| Packaging Type: | CANS, Bottles, Bags, Pouch, Other |
| Packaging Material: | Plastic, Metal, Glass |
| Filling Material: | Honey, Milk, Water, Oil, Juice and so on. |
| Hopper capacity: | 30L |
| Filling range: | 80-1100ml |
| Optimal Filling range: | 100-1000ml |
| Optional Filling range: | 10-100ml; 30-300ml; 50-500ml; 100-1000ml;300-3000ml,1000-5000ml, etc. |
| Filling Accuracy: | ±1% |
| Automatic Grade: | Semi-automatic |
| Driven Type: | Pneumatic and electric |
| Rated Air Pressure: | 0.4-0.6MPa |
| Voltage: | 220V/110V 50Hz/60Hz |
| Power: | 10W |
| Dimension(L*W*H): | 113*32*30cm |
| Weight: | 27.6 KG |
◆ Details and Advantages of Filling Machine
• Food-grade Materials;
Big stainless steel hopper, and the metal that comes into contact with the liquid or ointment to be filled are made of 304 stainless steel, which has corrosion-resistant, wear-resistant, safe and healthy characteristics.

• Convenient Adjustment of Filling Volume;
High-quality cylinder with good sealing, stable and corrosion-resistant air pressure, can accurately control every filling, ensuring accurate measurement.
• Stainless Steel Discharge Nozzle;
Made of high-quality steel, stable and durable, with accurate filling performance and long service life, equipped with a high-precision anti-drip filling system.

• High-quality Piston;
Equipped with a PTFE piston, which is wear-resistant, has good sealing performance, and is durable
• Filling Adjustment Lever; Rotates to adjust the filling amount, allowing for easy adjustment of the quantity, and convenient operation

• Emergency Stop Switch;
An emergency stop button that can immediately stop the machine's operation.
• Manual/Automatic mode, Rotary switch;
Filling jog mode: Equipped with a foot switch, press once to discharge once; Automatic mode: Interval time can be set, allowing for complete control over the filling process.

◆ urange of applications
This filling machine has a wide range of applications, suitable for filling liquids and pastes, suitable for filling a variety of products with accurate measurement.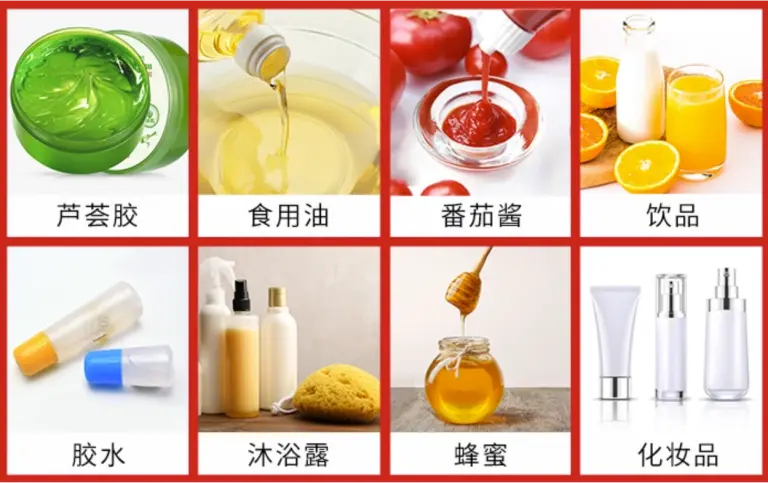 ◆ Warmy Reminder:
This semi-automatic filling machine needs to be used with an air compressor, the equipment does not include an air compressor. It needs to be extra purchased by the customer.